Coke Zero and Other Brands Score Buzz with March Madness Promotions [Video]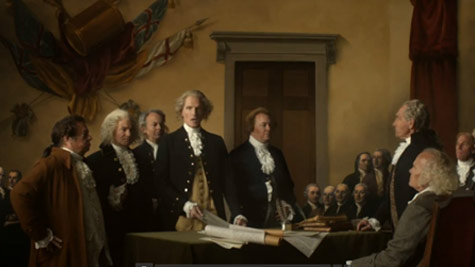 Coke Zero is one of many major brands trying to net both buzz and business off of March Madness, which is the hype surrounding the annual NCAA men's basketball tournament. In addition to Coke Zero's March Madness TV commercial created by their new indie ad agency, a number of other brands and marketers have been developing promotions that play off the tournament's huge appeal with men. These savvy marketers are discovering how March Madness lets them tie their brands to the popularity of the tournament without having to pay sky-high ad or sponsorship fees. The wide array of March Madness advertising campaigns has been profiled on AdAge.com, NRN.com and USAToday.com and we've compiled a look at the best of the best.
AdAge.com covered the Coke Zero integrated marketing campaign, which includes a 30-second TV spot, a number of digital videos, and a partnership with TBS's Conan show. Co-branded promotions featuring Conan will appear during his TV show. In addition, The Conan Coke Zero Music Series will travel to Los Angeles, Austin, and Atlanta through the weeks leading up to the Final Four games and Coke Zero is also sponsoring special Conan broadcasts from Atlanta, which is the site of this year's Final Four.
One TV ad opens with two guys spending their office hours working on their basketball brackets. Their approaching boss forces one guy to run off while the other man simply sips a Coke Zero and a voiceover justifies their workplace antics. It's a humorous commercial that should resonate with the many men currently exhibiting similar bracket behavior who are also seeking no-calorie beverage options.
"Our new campaign tasks the brand's voice to be the ultimate defender of guy enjoyment on the premise of not having to make any sacrifices," said Pio Schunker, head of integrated marketing communications at Coca-Cola North America. "It celebrates guys being guys."
Mr. Schunker added that the commercial promotes how Coke Zero should be every place that men bond over guy-centric topics, such as sports, gaming, and music.
The promotions being planned by major restaurant chains were profiled by NRN.com and USAToday.com. These efforts are coming from brands that are popular with the mostly-male, basketball-watching audience, with promotions from Domino's Pizza, Little Caesar's Pizza, Buffalo Wild Wings, Pizza Hut, and Hooters. They allow these brands to take advantage of the March Madness excitement in low-cost, high-impact ways.
Some chains are simply bringing back promotions that have proven popular during past tournaments. Domino's Pizza is bringing back some special meal deals, while Hooters is reprising an offer that features downloadable coupons for specific specials on different tournament weekends. Little Caesar's Pizza is repeating its one-day promotion where customers receive free Crazy Bread if a low-ranking team beats a top-ranking team in the first round. This offer is not expected to cost Little Caesar's much money since it's highly unlikely for a bottom seed to upset a top seed.
Buffalo Wild Wings is airing a new TV spot and running an augmented reality game on their new smartphone app, which is designed to entice more guests to visit during the highly hyped games. The chain is also citing itself as the "official hangout of March Madness."
Pizza Hut is offering the chance to win a coupon for a free one-topping pizza to consumers who correctly pick all four No. 1 seeds in the tournament to advance to the semi-final round. The chain isn't claiming to sponsor or advertise in the tournament, but their marketing promotion lets them align their brand with the popularity of the event in a smart way.
In a creative twist on picking the winners, Freebirds World Burrito is instead rewarding a year's worth of free burritos to the fans who choose the fewest number of winning teams. Ten runners-up will get a free burrito and every contestant receives a free drink for participating. It's both an unconventional way to stand apart from other chains with March Madness promotions and an extremely low-cost effort since the brand is only promoting this contest to members of its loyalty club.
By developing savvy integrated marketing strategies that play off the March Madness frenzy, brands are scoring lots of publicity for little cost while reaching a coveted male market whose loyalty proves lucrative.
To leverage the power of an integrated marketing strategy for your brand, contact MDG.
MDG, with offices in Boca Raton, FL and New York, NY, is a full-service advertising agency and one of Florida's leading digital marketing companies. MDG specializes in developing integrated marketing strategies, exceptional creative executions, and solid branding and media-buying strategies that give clients a competitive advantage. Our core capabilities include award-winning print advertising, branding, logo design, creative, digital marketing, media planning and buying, radio and TV advertising, online video development, Web design and development, email marketing, social media marketing, and SEO. To stay on top of the latest trends in integrated marketing, contact MDG.