Watch #WishesForBaby, the Fisher Price Campaign that's Toying with the World's Emotions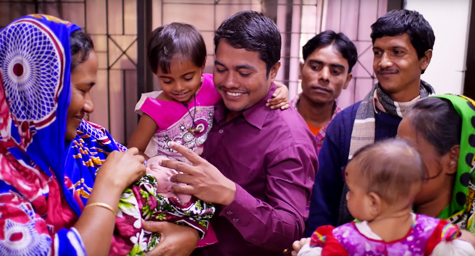 Fisher-Price is known for its toys, but now the company is re-focusing on its founding premise of the importance of play in child development. In an emotionally-driven video that the world keeps watching and sharing, the toy maker opts not to tout its toys, but instead captures the deepest desires of parents of newborns around the world, indicating that Fisher-Price strives to be a partner with parents to help make those wishes for their children a reality. The video's appeal comes from its emotional approach, which has caused it to go viral. PRNewsOnline.com shared more on how Fisher-Price's new campaign plays up its role in child development.
The Birth of the Campaign
Fisher-Price and marketing firm Weber Shandwick collaborated on the campaign designed to engage young parents around the world and reposition the toy brand as a company that believes in the value of play in child development, instead of just a maker of toys.
To create the campaign's video, Fisher-Price and Weber Shandwick conducted global research that revealed how parents of every country and culture share the single goal of giving their child the very best possible start in life. This desire led to the "Wishes for Baby" campaign derived from the brand's new anthem "Best Possible Start."
This message was expressed in a short, unscripted film directed by award-winning documentarian Patrick Creadon about parents' primary wishes for their babies at birth. The film featured the personal sentiments of 26 families from 10 hospitals in seven countries as they welcomed their babies on New Year's Eve. All of the parents expressed how they wanted the best for their babies from the beginning.
The film captured these wishes in a very emotional way, while also reminding parents how Fisher-Price can be a valuable partner in making these wishes come true by helping children learn. Digitally displayed as a 90-second video, the film generated 1.7 million views in its first 24 hours online, and then went viral by gaining more than 9 million views, making it the toy maker's top-viewed and most-shared video of all time.
Support for Healthy Growth
Along with the video that skillfully drew in audiences, Fisher-Price further engaged parents around the world by allowing them to share their own wishes for their children at #WishesForBaby. These wishes were turned into whimsical illustrations by famed artist Adele Enersen. The company also urged continued communication with parents via social media such as Facebook, Instagram, Twitter, and Pinterest.
With this emotionally-moving campaign, Fisher-Price is rebuilding its brand image as a company that nurtures healthy child development.
Implement an emotionally-driven campaign and make an impactful connection with consumers. Contact MDG.
MDG, a full-service advertising agency with offices in Boca Raton and New York, NY, is one of Florida's top branding firms. MDG's capabilities include print advertising, direct mail marketing, branding, logo design, creative, media buying and planning, radio and TV advertising, outdoor, newspaper, digital marketing, website design and development, online video advertising, infographic development, email marketing, video marketing, mobile marketing, content marketing, social media marketing, paid search marketing, and SEO. To learn about the latest trends in advertising and branding, contact .MDG.