Watch YouTube Channel Itself into a TV Titan in 2014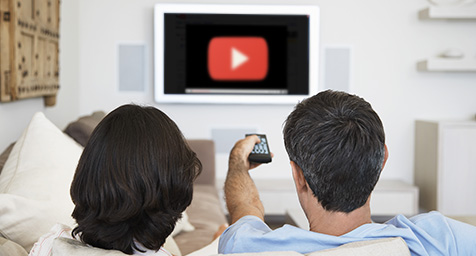 YouTube has always been tuned in and in tune with what viewers want to watch. And with more and more viewers trading traditional television for digital devices, 2014 will be a prime time for YouTube to evolve itself into a virtual version of television. MediaPost.com zoomed in on YouTube's plans to transform into TV 2.0.
YouTube has been working its way toward its vision for television for the past few years. The company started funding some TV-type channels nearly two years ago and recently signed on to Nielsen's OCR measurement, which translates online audience figures for TV advertisers. Now that the site has laid the groundwork as a network, watch for YouTube to ramp up its revamp and appear much more like cable TV in 2014.
If this transition transpires, it will refresh and reform the TV advertising industry as we know it. The programming may not be much different or better than traditional television, but the right marketing messaging and promotional push could propel YouTube above and beyond conventional media. Ironically, it may surpass traditional media by becoming much more similar to it.
And when television executives start promoting their upfront programs in May, expect YouTube to shake up the status quo as advertisers start comparing the value of traditional TV advertising with this new online opportunity. Now that advertisers are buying in to buying ads on digital channels, the TV advertising arena may never be the same.
"The opportunity for brand advertisers and Google to work together is enormous," said Lucas Watson, vice president of brand solutions at Google. "We have massive growth in front of us."
Stay in tune with the evolution of TV advertising. Contact MDG today at 561-338-7797, or visit www.mdgsolutions.com.
MDG is a full-service advertising agency and one of Florida's top creative ad agencies. With offices in Boca Raton, FL and New York, NY, MDG's core capabilities include branding, logo design, digital marketing, print advertising, mobile marketing, email marketing, media planning and buying, TV and radio, outdoor, newspaper, video advertising, Web design and development, content marketing, social media marketing, and SEO. To stay on top of the latest trends in TV advertising, contact MDG today at 561-338-7797. To learn more about choosing the best genre for branded video advertising, check out "How to Choose the Best Genre for Your Branded Videos."