WestJet Presents the Gift of Surprise and Lands an Outstanding Branding Opportunity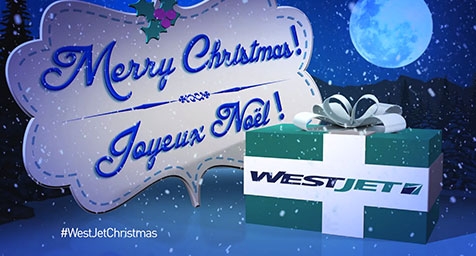 It's not often that we come across advertising that's as inspiring as Canadian airline, WestJet's, powerful "Christmas Miracle" video. It validates our belief that nothing cuts through the clutter like outstanding creativity. We wrote this poem to congratulate WestJet on their brilliant branding.
'Twas the holiday season and after a flight,
Travelers got a Christmas delight.
When fliers had checked in and waited to leave,
They had been asked what they wished to receive.
While fliers were nestled all snug in their seats,
WestJet staff went out and shopped for those treats.
They ran through the stores and grabbed all the gifts,
That travelers told them were topping their lists.
While the travelers flew up high in the air,
WestJet staff wrapped up their presents with care.
And just as all of the gifts had been packaged,
The fliers arrived and awaited their baggage.
When what to their wondering eyes should appear,
But a carousel filled with holiday cheer.
Hundreds of gifts, each tagged with a name,
For each of the fliers in baggage claim.
They grabbed their gifts and unwrapped them with squeals,
That the gift they received was the wish they'd revealed.
And WestJet was able to film the whole ploy,
And now it's an ad for the world to enjoy.
According to WestJet's blog, it took months of planning and nearly 200 volunteers to pull off their real-time Christmas miracle. Greg Plata, Team Lead of the Sponsorship Team, says, "In early August, we sat down with our friends at studio m and started brainstorming what 'giving' looked like at its best. We wanted to do something big, exciting and fresh. Fast forward three months and, with the help of 175 WestJet volunteers, three airports and Santa himself, we made a Christmas miracle happen for more than 250 guests on two Calgary-bound flights."
Integrate video marketing into your branding strategy to boost your results and revenue. Contact MDG.
MDG, a full-service advertising agency with offices in Boca Raton and New York, NY, is one of Florida's top creative ad agencies. MDG's core capabilities include print advertising, branding, logo design, creative, digital marketing, media planning and buying, radio and TV advertising, Web design and development, online video advertising, email marketing, social media marketing, and SEO. To stay on top of the latest trends in YouTube and video marketing, contact MDG. To discover why YouTube is a video marketing must for brands trying to catch the eye of audiences worldwide, check out MDG's video infographic, "Advertisers, You Need YouTube."