What Consumers Crave From Online Marketing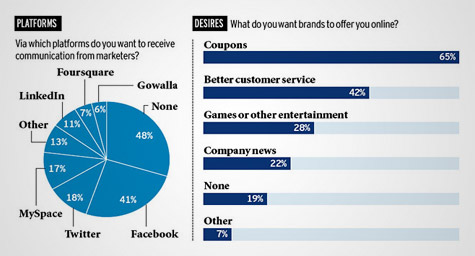 According to a new Ad Age/Ipsos Observer survey of digital-media habits, consumers have strong opinions about what kinds of communication they want from brands online and where they want to receive them.
In terms of where consumers want to receive online communication from brands, 41% of respondents were open to offers on Facebook, which was more than twice the amount of any other digital platform. The remaining results showed that 18% would accept ads on Twitter, 17% on MySpace, 13% on other sites, 11% on LinkedIn, 7% on Foursquare and 6% on Gowalla. Most revealing was that 48% preferred if none of these platforms made online offers.
Facebook certainly deserves credit for giving advertisers and consumers a place to interact where consumers actually want to talk to them. In fact, almost three-quarters of users have "liked" at least one brand on the above platforms, and more than one-third have "liked" six brands or more.
When it comes to the types of offers consumers want from brands, 65% of respondents wanted coupons, with many saying that the main reason they "liked" a brand on Facebook was in the hopes of receiving discounts. Coupons were also the main driver for users of location-based services such as Gowalla and Foursquare, with almost half of users saying that discounts were their primary reason for joining.
Aside from the overwhelming popularity of coupons, 42% of respondents wanted brands to offer better online customer service, 28% hoped for games or entertainment, 22% wanted company news and 7% wanted some other offer from brands online. Almost 20% of respondents didn't want any online offers.
Ultimately, the survey showed that Facebook is the place where consumers welcome brand communication, especially coupons offers. With 149 million Facebook accounts in the U.S., brands know where to go to get Facebook-to-face with consumers.
MDG, a full-service Florida advertising agency, with offices in Boca Raton and New York, NY, specializes in developing targeted Internet marketing solutions, exceptional creative executions and solid branding and media buying strategies that give clients a competitive advantage.
Our core capabilities include print advertising, branding, logo design , creative, digital marketing, media planning and buying, TV and radio, public relations, Web design and development, email marketing, social media marketing and SEO. To view MDG's portfolio, click here.