What Do Luxury Shoppers Look Like Today?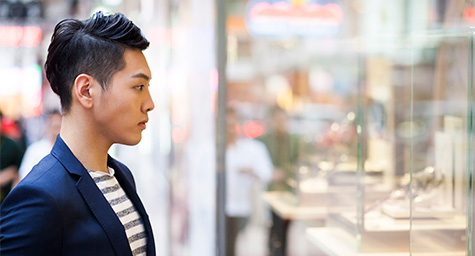 The stereotype of the luxury shopper as a white, older female dripping in diamonds is simply a marketing myth. Today, the true luxury shopper is typically an Asian or Middle Eastern man aged 25 to 44 years old who is single and childless. This was one of the eye-opening findings from a report by Epsilon and Luxury Institute research firm. This wealth wisdom may surprise many marketers who have long been pitching their luxury brands to that millionaire stereotype, yet this may be why around half of luxury brands lose 50% of their top customers every single year. For more surprising details about the new look of luxury, The Wall Street Journal featured these findings on the finest.
The Appearance of Affluence
To shed light on luxury spenders, the study analyzed 30,000 luxury shoppers with a net worth of more than $1 million and financial resources over $2 million. These individuals spend more than $30,000 in specialty retail each year with average transactions of over $1,200. The research revealed four types of luxury shoppers.

1. True Luxes
These shoppers are a luxury brand's dream. They have the means to purchase the finest and they tend to buy frequently.
2. Dressed for the Part
These spenders want the look of luxe, but don't have the financial funds to be a true luxury buyer.
3. Moments of Wealth
Since these shoppers don't buy luxury labels often, they often save for specific products.
4. Aspirational
These upscale buyers want to own luxury products but cannot afford to purchase them on a regular basis. To satisfy their desire, they tend to search for luxury labels in outlets and discount boutiques.
Luxury Leanings
According to the study, luxury shoppers opt to shop in stores since they want to see products in person and receive VIP treatment. Online sales comprise fewer than one-quarter of multi-channel luxury retail brand sales. And lastly, a rude or dismissive salesperson will turn off upscale shoppers and make them abandon their goods for good.
Discover successful luxury marketing strategies. Contact MDG.
MDG is a full-service advertising agency and one of Florida's top branding firms. With offices in Boca Raton and New York City, MDG's core capabilities include creative, branding, logo design, print advertising, digital marketing, email marketing, media planning and buying, TV and radio, outdoor advertising, newspaper, video marketing, Web design and development, online advertising, content marketing, lead generation, mobile marketing, social media marketing, and SEO. To discover the latest trends in branding and advertising, contact MDG.