What Do the New Google AdWords Changes Mean for Advertisers?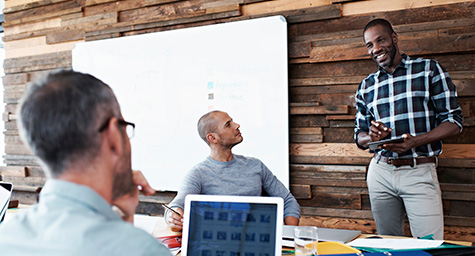 Yesterday's Google Performance Summit marked a significant period in the search engine giant's history. Met with cheerful applause, various Googlers revealed staggering benchmarks achieved so far this year, in addition to a myriad of significant changes coming to the AdWords and Analytics platforms.
If learning that Google now handles "trillions" of searches annually wasn't enough incentive to pay attention, you might also have caught the minimally emphasized statistic that local search is growing faster than mobile search. In many respects, the 2016 GPS wasn't just about change—it was about the future of Google ad products, the systems used to measure their success, and where we're all headed as a dedicated Google user base.
Amidst the self-proclaimed accolades and overwhelming positivity characteristic of Google's "unveilings" and events, the news that search network ad formats are about to get larger signaled a profound change for advertisers—not to mention the introduction of an entirely new ad format, "promoted pins," which may well evolve as a cornerstone of local search marketing (lest we neglect advancements in offline foot traffic measurement).
While there are many factors to consider about the future of AdWords, many of which were only previewed at the event, one element remains perfectly clear: Google is ramping up AdWords as an advertising medium and has no plans to stop anytime soon.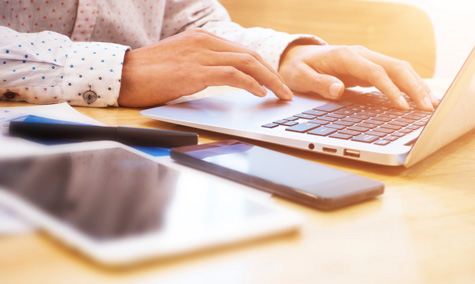 For advertisers, the biggest news unveiled at the GPS is arguably the shift to further segregate bidding between desktop, tablet, and mobile devices. In the past, it was uncomfortable to have bids tied to desktop computers when mobile usage has been a dominant trend. In some instances, it's been a mounting problem for advertisers to scale mobile targeting when bids are chained to desktop variable modifier. To neutralize this limiting situation, Google is rolling out functionality that will enable advertisers to set individual bids for desktops, tablets, and smartphones.
Sridhar Ramaswamy, Google's senior vice president of Ads and Commerce, explained, "This lets you anchor your base keyword bid to the device most valuable to your business and then set bid adjustments for each of the other devices. You will also have a wider range to adjust bids, up to +900%."
The long-term impact of this change will take time to manifest, but in the short term (once the functionality becomes available), it's likely that mobile-specific CPCs will rise dramatically as advertisers race to engage the mobile audience as effectively as possible.
In addition to the mobile bidding changes on the horizon, Google also dropped big news that ad formats will finally be expanded to include more characters. AdWords professionals have long bemoaned the limited space available for crafting compelling ad titles, offering value proposition statements, and creating alluring calls to action.
To address the limited ad format, Google initially delivered new ad extensions, such as the meta description–like add-ons, to sitelinks and callout extensions (which don't really do anything except provide the advertiser an opportunity to create more robust ads—unlike call extensions or location extensions). An expanded ad format can help to dramatically increase CTR in competitive verticals, but it will also require advertisers to entirely rethink their ad copy.
"These upgrades help your ads work harder across screens, especially for the on-the-go mobile consumer that wants to know exactly what you offer before tapping into your website," said Google's Ramaswamy.
The new, expanded search network ad format will feature two longer headlines of up to 30 characters each and a longer description line of up to 80 characters. The display URL may include up to two directory paths, which can be used to reference landing page content. The paths do not necessarily have to match the landing page URL, which could ultimately influence quality score at the keyword level. It's unclear how the ad rank algorithm will be affected by this change, if at all.
Strikingly, as Google reiterated that one-third of mobile searches are local, the announcement of promoted pins certainly sounds like music to many local marketers' ears. Maps are notoriously difficult to leverage in highly competitive verticals, where many local businesses offering the same service in a narrow market compete for visibility. In many instances, visibility on maps is triggered by proximity, which further complicates the ability of a local business to influence its visual presence on map results.
Promoted pins essentially solve this problem by providing local businesses with an opportunity to stand out in a sea of relative red dots. Marketers will need to use location extensions for promoted pins to work, which means the potential is strong for this format to change over time. The function of promoted pins is inarguably to drive offline foot traffic, which Google says is outpacing e-commerce transactions in many verticals.
At one point in the Google Performance Summit yesterday, Google's AdWords VP, Jerry Dischler, stated that Google was highly motivated to expand the availability of store visits data, particularly to small businesses over time. He also indicated this notion was a substantially challenging proposition and would likely necessitate a "hardware solution" (i.e., beacons) because of complications with accuracy and scale.
And if that weren't enough change to keep advertisers entranced, Google also revealed that AdWords is being overhauled with an entirely new interface. The legacy platform is undergoing a comprehensive redesign to make AdWords "easier to navigate and use." During the GPS, the company announced the initiation of a "major" redesign process aimed at "rejuvenating" the AdWords interface.
During a phone conversation with Search Engine Land last week, Paul Feng, AdWords product management director, said, "This re-imagining process is going to take some time, but we're excited to finally talk about what we've been working on for the past year, year and a half. The reason we're rebuilding AdWords is because the world has changed so much in the past two years. AdWords is now over 15 years old and launched when Google was just figuring out what search advertising was. We rebuilt it several years ago for a desktop world—smartphones were only [a] year old. Now we are in probably the biggest shift since AdWords was introduced (and I'd argue perhaps ever) with mobile," added Feng. "And there is now increased demand on marketers and on AdWords as a platform—advertisers are running ads in search, display, shopping, mobile, video. Ultimately, that's why we're re-imagining AdWords."
While we don't have a perfect picture of how the AdWords interface will evolve, Google did release a mocked-up screen shot of how it might look: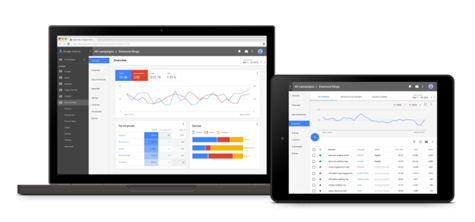 There are a variety of changes we can assume will take place based on this visual. At first glance, it appears that selecting an individual campaign brings up a sort of "dashboard" view, providing performance statistics in a highly visual format. There appear to be four main metrics presented alongside clicks and conversions. There is a "top ad groups" feature, which could make it easier to spot outperformers. Performance segmented by devices is also much easier to read in this potential format. According to Search Engine Land, Google says it will be introducing a small number of advertisers to those facets of the redesign that have been built, starting today. Over the next 12 to 18 months, areas of the redesign will roll out to select advertisers—big and small—for testing and feedback based on the capabilities they're using.
If one thing is clear in the wake of the Google Performance Summit, it's that AdWords is certainly in the company's spotlight as the poster child for an effective Internet advertising platform. Armed with a perpetual flow of user data, over a decade of AdWords experimentation, and a seemingly endless supply of internal talent to develop and materialize advertising technology, Google is poised to further dominate the digital advertising landscape.
The focus on local and mobile marks an important point in Google's history, as it signals a complete departure from emphasis on social media. With Google+ almost entirely scuttled and the demand for local business and mobile marketing solutions exploding in the U.S. and abroad, Google is clearly making strides to improve its advertising and analytics products as a means of garnering more market momentum.
Change is the law of life, particularly in the digital world, but with Google at the helm, there's just no telling what tomorrow will bring. As AdWords continues to evolve, there's really only one thing any AdWords professional can do: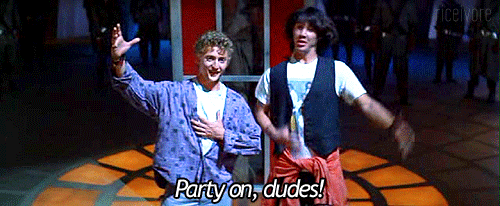 Keep up with the latest trends in search engine marketing. Contact MDG today at 561-338-7797 or visit www.mdgsolutions.com.
MDG, a full-service advertising agency with offices in Boca Raton and New York, NY, is one of Florida's top branding firms. MDG's capabilities include print advertising, direct mail marketing, branding, logo design, creative, media buying and planning, radio and TV advertising, outdoor, newspaper, digital marketing, website design and development, online video advertising, infographic development, email marketing, video marketing, mobile marketing, content marketing, social media marketing, paid search marketing, and SEO. To learn about the latest trends in advertising and branding, contact MDG today at 561-338-7797 or visit www.mdgsolutions.com.