What Speeds By Faster than BMWs? Their Snapchat Ads.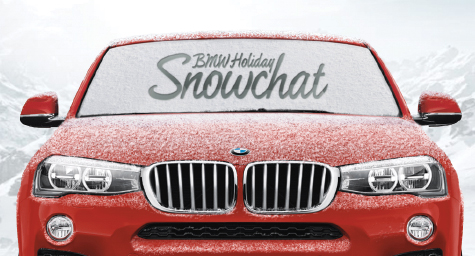 BMW's cars race quickly past your eyes and now their ads will, too. To drive their brand toward Millennials, who are known for their short attention spans, the luxury automaker is following the lead of the blink-and-you-miss-it Snapchat by launching a brand-new social media campaign and website called Snowchat (with the help of agency Kirshenbaum Bond Senecal + Partners). BMW is well aware that Millennials love the Snapchat style, so they wanted their concept to reflect that format. Adweek.com gave a short-and-sweet summary.
On the Snowchat site, users will find an image of a BMW whose windshield is covered in snow. But users can make virtual artwork right on that show-sheathed windshield by simply swiping their finger across a touchscreen or with the click of a mouse. And they can share their artwork via social media and email. But five seconds after their message is seen, the design disappears forever.
Meanwhile, their website will star the new X4 SUV since it's meant more for younger drivers than for their average customer.
The goal of the campaign is to broaden the BMW brand beyond its fans and luxury drivers. By targeting Millennials, they will be driving the brand into new areas and toward the future.
Learn creative strategies for successful advertising. Contact MDG today at 561-338-7797 or visit www.mdgsolutions.com.
MDG, a full-service advertising agency with offices in Boca Raton and New York, NY, is one of Florida's top branding firms. MDG's capabilities include print advertising, direct mail marketing, branding, logo design, creative, digital advertising, media buying and planning, radio and TV advertising, Web design and development, online video advertising, infographic development, email marketing, mobile marketing, content marketing, social media marketing, and SEO. To learn about the latest trends in advertising and branding, contact MDG today at 561-338-7797 or visit www.mdgsolutions.com.