What This Recent Google Search Change Means for Hotel Marketing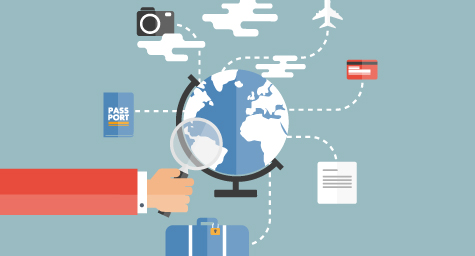 Sometimes a little change can have a big impact.
That certainly seems to be the case with a seemingly small addition Google made recently to its city-related search results. If you run a query for a term such as "Miami, FL" you'll notice that Google's Knowledge Graph—the box of immediately available information presented alongside results—now includes a line like this: "Hotels: 3-star averaging $220, 5-star averaging $620. View hotels."

So, what's the big deal?
In the long term, the move highlights a key trend: Google is quickly becoming a major booking engine.
This evolution—from simply displaying hotel text ads to delivering real-time room prices—has been occurring for a while. It began with tools like the Hotel Finder and took a major step forward last year with tweaks to the company's Hotel Price ads. This revamped unit currently includes listings for three hotels, prices, photos, links, and options to filter by date. Though consumers are still taken to an OTA such as Expedia to book, the moves are a direct challenge to travel metasearch sites like Kayak.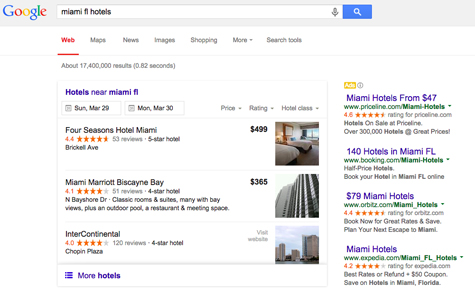 This shift could be hugely important for resort and hotel marketing efforts. As a travel industry insider recently told Skift, Google may become one of the largest metasearch drivers of hotel bookings in the United States, as soon as the end of this year.
So, broadly, the addition of one line to the city Knowledge Graph signals a much larger strategic push by Google into the hotel booking space.
However, the move also has immediate consequences for hotels and resorts that should spark some tactical SEO shifts, since that little line of text gets a huge number of impressions when multiplied across every city in the world.
What exactly does that mean? Which specific tweaks should be made to hotel marketing tactics? How will the move affect future search strategies? Here's a quick rundown:
How Does This Impact Hotel SEO/PPC?
It's important to note that the hotel line in the city Knowledge Graph includes a link to a modified search result for "city + hotels" (like this). So, first off, if you perform well for that keyword combination you're in good shape.
If you don't perform well for that keyword combination, your target set of terms just got shorter.  By placing emphasis on a dedicated search result (city + hotels), Google has declared which keywords really are the most relevant for tourists.
Given that information, it's now more important than ever to optimize for geo-modified "hotel" phrases. In particular, emphasis on "city + state + hotels" is now paramount.
Of course, you're not the only one with this information. More volume is likely to occur for "city + state + hotels" queries, so competition for both organic and in paid search results is sure to increase.
What Should Hotel Marketers Do Immediately?
There are four key things you should add to your hotel marketing efforts in the short-term to optimize for this change.
First, as mentioned above, Google has tipped its hand in terms of what tourist queries it values, so make sure to adjust your SEO and PPC targeting to focus on "city + state + hotels."
Second, ensure that all Google ad extensions are enabled for PPC, since this is necessary to be included in the Hotel Price unit.
Third, just having extensions enabled isn't enough. You need to make sure Google is pulling current, accurate, valuable (to you) information, so ensure that schema.org is being properly utilized to feed things like star and review ratings to the search engine.
Fourth, if you haven't already done so, this could be a good time to create optimized web pages specifically tailored for the "city + state + hotels" query. This will improve relevancy (SEO) and quality score (PPC).
What Does This Mean for the Future?
While Google's moves aren't altruistic—it clearly sees a business opportunity in the travel space—the company is also making these changes in part to simplify the city research process for tourists.
Rather than having to click around multiple times to find information on a city—its location, weather, time, etc.—Knowledge Graph consolidates the essentials into one immediately available place. The same is true for hotels specifically; Google is working to present as much information as possible, all together.
This means it's key to put the best content forward for Google, so your hotel marketing needs to emphasize aggregating good Google reviews, making quality images available, and keeping property information up to date.
In particular, hotel marketers should think hard about how their pricing is being displayed by Google. In the city Knowledge Graph, the search engine is presenting an average room night cost for different hotel tiers, so consumers are now booking with a spectrum of prices in mind to consider.
Finally, don't forget that this is part of a continuing evolution on Google's part. For example, this particular Knowledge Graph addition currently appears when a person actively searches for a city name. However, since Google knows so much about the consumer—where they are, what their travel plans are, etc.—it soon may not even need the actual search query; it could automatically provide information when a flight is booked or a mobile phone enters the city limits. Given that, things like proximity targeting could very well become much more important.
Of course, one never knows for sure what Google has up its sleeve in the hospitality space, but it's a good bet that many more changes like this will be coming soon.
Stay up to date on hotel marketing trends. Contact MDG today at 561-338-7797 or visit www.mdgsolutions.com.
MDG, a full-service advertising agency with offices in Boca Raton and New York, NY, is one of Florida's top hospitality marketing companies and branding firms. MDG's core capabilities include advertising, branding, logo design, creative, infographic development, digital marketing, creative media planning and buying, radio and TV advertising, website design and development, email marketing, mobile marketing, content marketing, social media marketing, and SEO. To keep up with the latest trends in hotel marketing and advertising, contact MDG today at 561-338-7797.