What Types of Videos Are Succeeding on Social Media? [Infographic]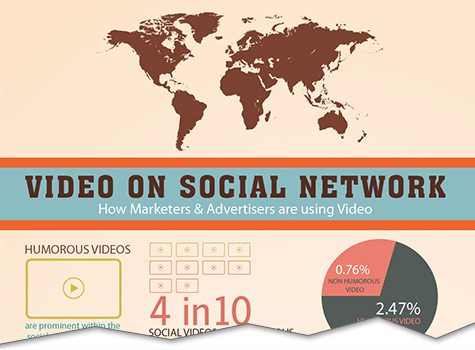 Marketing videos on social networks are no longer just repurposed TV spots and user-generated snippets. These days many savvy advertisers are pushing the boundaries of the medium by experimenting with everything from video length to interactive experiences.
[jump]
As AllTwitter puts it: "Video is the new black when it comes to social media." Everyone, from mega-brands to individual artists, is trying video-based social media campaigns, including the NBA with its #NBARapidReplay and singer Demi Lovato with her Twitter-fueled pieces.
While all this experimentation is exciting, it has also created confusion among marketers. Often, sorting through the buzz to find out which types videos are actually succeeding on social media—and which aren't—is a daunting task.
VideoExplainers has shed some light with this infographic, which used YuMe data to examine video-based social media campaigns. Some key insights include:
Humor Works: Four in 10 social videos are humorous, and people who watch a humorous video are three times more likely to click through to a brand's Facebook page than those who watch other types of content.
Celebs Don't Equal Success: Videos featuring a TV or movie celebrity actually drive 12% fewer visits to a brand's Facebook page than those that do not.
Go Short or Go Long: Videos 15 seconds or less produce the best click-through rates on social media, followed by videos 60 seconds or longer. Videos in the middle, 16-59 seconds long, are the least effective.
Women Rule: 63% of all video views on social media networks are from females.
Videos Work: Viewers are 3x more likely to interact with a brand after watching a video on a social network.
Here's the full infographic:


Infographic by Videoexplainers
Use video advertising to boost your brand's marketing results. Contact MDG today at 561-338-7797 or visit www.mdgsolutions.com.
MDG, a full-service advertising agency with offices in Boca Raton and New York, NY, is one of Florida's top creative ad agencies. MDG's core capabilities include print advertising, branding, logo design, creative, digital marketing, media planning and buying, radio and TV advertising, Web design and development, online video advertising, email marketing, social media marketing, and SEO. To learn more about the latest trends in video advertising and social media marketing, contact MDG today at 561-338-7797 or visit www.mdgsolutions.com. Discover how research shows that viewers are becoming more open to longer videos. Check out "Do YouTube Videos Need to Be Short? Not Necessarily."