What Zipcar Can Teach The S&P 500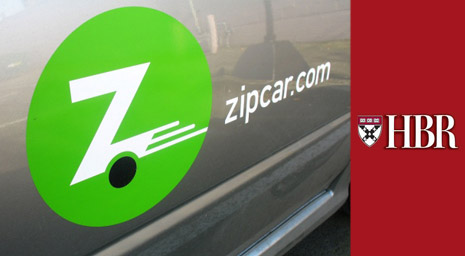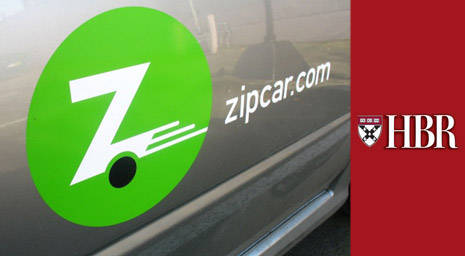 Harvard Business Review regularly spotlights important issues facing companies today through its interactive resource, The HBR Insight Center. The following information is derived from a recent installment of their series on how the growing obsession with customer service excellence is leading managers to turn their companies into customer-focused organizations. In this insightful post, the emphasis is on how major American companies should look to thriving upstarts like Zipcar for ways to successfully grow a business by fulfilling the needs of the customer and marketplace.
When Zipcar entered the rental car market, the small company realized that the only way to compete in an industry dominated by such major brands as Hertz and Avis, was to carve out a niche that met the modern-day needs of the consumer. This led to their creation of a brand-new market for by-the-hour car rentals, which was truly in touch with what consumers wanted, and allowed them to distinguish themselves from the competition. Now 11 years later, Zipcar has attained 80% of the industry it created and the company's IPO has been valued at over $1 billion.
Zipcar is a prime example of how closely examining the customer's needs, along with a little imagination on better ways to serve them, is the fastest route to growth and profit.
With so many S&P 500 companies struggling to survive and thrive in today's volatile economy, these big businesses should considering following in the customer-centric footsteps of the smaller upstarts. This may not be a challenge for major companies since they traditionally make changes based on current market conditions and use the most conservative data regarding areas of growth. On the other hand, upstarts think beyond the bounds of the established market and often base their business concepts on what consumers are looking for and is lacking in the marketplace. This emphasis on improving or innovating current products in order to achieve customer satisfaction is what gains the attention and funding of venture capitalists, and ultimately drives their success.
In fact, big businesses can learn a lot from the venture capitalists who finance the most successful entrepreneurs. These investors use venture funds which create a general thesis about the industries poised for the greatest growth, which corresponds to the emerging needs of the marketplace. Then they invest in numerous start-ups focused on serving those promising industries.
Johnson & Johnson once actually followed that venture model when the company sent executives to a new city and tasked them to start up a new business that would serve its suture market, yet with limited funds. The result was an innovative company called Ethicon Endo-Surgery, which has grown into a nearly $5 billion operation. These executives simply analyzed what consumers were looking for and what was lacking in the current marketplace, then used their creativity to develop a business driven by these desires.
If S&P companies started approaching business from the customer-focused mindset of start-ups, they would realize that there is a lot to be learned, and even more to be earned.
To discover creative strategies for gaining a solid competitive advantage, contact MDG today.
MDG, a full-service Florida advertising agency with offices in Boca Raton and New York, NY, specializes in developing targeted Internet marketing solutions, exceptional creative executions and solid branding and media buying strategies that give clients a competitive advantage. 
Our core capabilities include print advertising, branding, logo design, creative, digital marketing, media planning and buying, TV and radio advertising, customer relationship management, inbound marketing programs, public relations, Web design and development, email marketing, social media marketing and SEO. View MDG's creative marketing portfolio.