What's Your Reaction to Facebook's New Feedback Buttons, "Reactions"?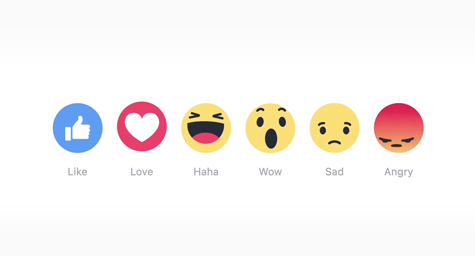 The "Like" button is no longer the only way for Facebook users to quickly express how they view a post. Facebook just expanded its expressive options for users with new "Reactions," which let users instantly express how they feel about a post through a choice of five new emojis. These consist of "Love," "Wow," "Haha," "Angry," and "Sad," with each emotive image animated to show its corresponding emotion. Now, along with the classic "Like" button, Facebook users have a total of six images to quickly express how they feel about social content.
The "Like" button on Facebook is extremely well liked. According to Bloomberg.com, "Facebook's 1.6 billion users click on it more than 6 billion times a day—more frequently than people conduct searches on Google." To Facebook, the "Like" button is more than a way for users to convey positive sentiment. It also gives Facebook important targeting data that its machine learning algorithm uses to decide which content to display to users. By showing a user similar content to posts they have previously "Liked," this increases the odds that they'll click on the new content. This allows Facebook to attract more advertisers because they know that their content will be targeted to users most likely to find it relevant and click on it.
Wired.com shared the reasons why Facebook got expressive with "Reactions." Since the "Like" button offers Facebook so much advertising value, the company decided to offer people more nuanced ways to express their thoughts on a post, which will also provide more targeting data. But with 90 percent of the people who access Facebook daily and monthly using a mobile device, Facebook knew they needed to develop a convenient and easy way for all of their mobile users to give feedback without the time-consuming and difficult task of writing a long response on a mobile device.
The answer came in the form of emojis, the popular emotive icons used as shorthand for both spoken and body language. But the hundreds of available emojis would have been too many for Facebook to offer, so they ultimately decided to focus on the sentiments expressed most often by users.
To narrow down its choice of emojis, Facebook examined how a subset of Facebook users from all over the world used the social network. They searched through the site to find the most frequently-used emojis, one-word comments, and stickers. Their research revealed the most common sentiments. Then, Facebook narrowed down their emoji options and tested them on users. Facebook wanted their final choice of emojis to be universally understood and clearly expressive, which led to their final five. Then, Facebook's design team animated the emojis to represent a reaction, which led to their name "Reactions."
But another hurdle was trying to squeeze all of these additional emoji options in the limited space beneath a post. Facebook found a solution. Now beneath each post, users will find a display of the three most frequent reactions to the post, plus those of their algorithmically-determined closest friends. But users can see a full display of all emoji options by clicking through the post.
With the addition of "Reactions," Facebook is hoping to get an even better reaction from both users and advertisers.
Keep up with the latest updates in social media. Contact MDG.
MDG, a full-service advertising agency with offices in Boca Raton and New York, NY, is one of Florida's top branding firms. MDG's capabilities include print advertising, direct mail marketing, branding, logo design, creative, media buying and planning, radio and TV advertising, outdoor, newspaper, digital marketing, website design and development, online video advertising, infographic development, email marketing, video marketing, mobile marketing, content marketing, social media marketing, paid search marketing, and SEO. To learn about the latest trends in advertising and branding, contact MDG.