Which Branding Strategy Consistently Works on Social Media?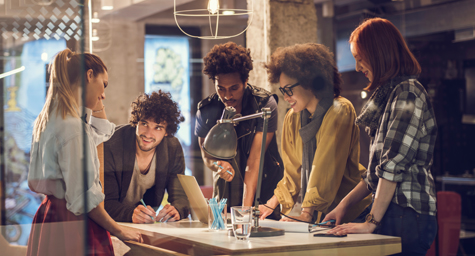 When it comes to branding on social media, keeping branding consistent on all social media platforms is consistently the key to success. This is because an effective brand is comprised of an interconnected group of business identity elements, such as core values, brand distinctions, and selling points. By expressing these essential brand attributes on all of your social media platforms, you're able to tell a brand's story and familiarize consumers with the brand's business and beliefs. By maintaining the same story and message on every social channel, this creates a strong brand image that consumers can relate to, which increases their interest in a brand. This results in a better understanding of the brand, along with more conversions, and customer loyalty. To make your branding more consistent on all of your social media platforms, Inc.com shared four strategies that brands should consistently follow.
1. Align the Design
The look of the logo, layout, graphics, and colors defines a brand's visual identity and determines its public perception. These elements work together to create a single brand image. Luckily, you can personalize these visual elements by using the customization options on Facebook and Twitter. To create consistent visual branding, use these expert tips:
Maintain the same logo, colors, and layouts on every social platform.
Use the same text elements and fonts (on images) on all social properties.
Extend these visual elements to the brand's website, digital marketing, and corporate collateral.
Use these same elements on all consumer communications.
2. Make Your Messages Match
While it's important to share the same content on all social media platforms, you don't want to bombard and bore users by sending the exact same content over and over. That's why you need to vary both the posting pace and presentation of content to suit the strengths of each of your social media channels, while maintaining the general essence of your brand identity.
3. Creatively Connect Content to the Brand
Every social post shouldn't be a promotional message. Get creative and share interesting, informative, humorous, and timely content that is relevant to the brand. This keeps content appealing, rather than repetitive, while subtly displaying and promoting the brand's many attributes.
4. Cross-Promote Across All Social Media Platforms
With the wealth of digital platforms that consumers use to find brand information, it's smart to maintain a consistent presence on all relevant social platforms, as well as link to the brand's presence on other social channels. This shows consumers the strength of a brand's social media presence and highlights positive feedback from others.
Try these four savvy marketing strategies to consistently send the right message about a brand on social media.
Get the latest updates on social media marketing. Contact MDG.
MDG, a full-service advertising agency with offices in Boca Raton and New York, NY, is one of Florida's top branding firms. MDG's capabilities include print advertising, direct mail marketing, branding, logo design, creative, media buying and planning, radio and TV advertising, outdoor, newspaper, digital marketing, website design and development, online video advertising, infographic development, email marketing, video marketing, mobile marketing, content marketing, social media marketing, paid search marketing, and SEO. To learn about the latest trends in advertising and branding, contact MDG.