Which Word Could Change Our Thinking in Linking Our Digital Strategies? Mocal.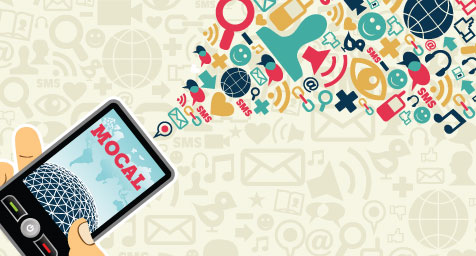 In our quest to keep up with the times, the trends, and the talk in social media, the latest lingo in the lexicon is mocal. According to AOL's online oracle, David Shing, mocal means the merging of social strategy with mobile strategy—and brands need it to stay relevant in the social media sphere. iMediaConnection.com spoke to the virtual visionary to understand this branding buzzword.
Apparently, a majority of brands keep their social media and mobile marketing efforts separate, preferring to see social as simply an activity that happens on mobile instead of as part of that master branding plan. This thinking has led marketers and their branding firms to divide their social media strategies into one phase of planning and their mobile marketing methods into another. In the future, Shing wants brands to see social and mobile as complementary components of the total digital experience and to pair them into one all-inclusive mocal methodology.
For the last word on this new word, check out Mr. Shing's words of wisdom.
Stay up on the buzz in the branding. Contact MDG today at 561-338-7797.
MDG is a full-service advertising agency and one of Florida's top branding firms. With offices in Boca Raton, FL and New York, NY, MDG's core capabilities include branding, logo design, digital marketing, online advertising, print advertising, email marketing, media planning and buying, TV and radio advertising, outdoor, newspaper, video marketing, Web design and development, infographic development, content marketing, mobile marketing, social media marketing, and SEO. To learn more about digital marketing, contact MDG today at 561-338-7797.