Who Is The Facebook Power User? [Infographic]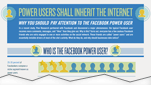 As in life, even social media has its alpha players and these fervent, frequent Facebook friends are called "power users." These fanatical Facebook fans are more engaged than most in various social networking activities and have ultimately become the leading drivers of social media interaction. Now, these power users are catching the attention of businesses that realize their value as brand advocates with the ability to continually promote their brands from a trusted personal perspective.
The following infographic, developed by DemandForce, defines and details these desirable Facebook power users while showing businesses how to leverage these social media leaders to advance their marketing goals. It reveals how they influence social media action through friend requests, "likes" and messages, as well their ability to impact the political decisions of others. Most importantly, it shows businesses how to pursue these Facebook power users and put them to work promoting their brands. Take a closer look at the infographic for a better understanding of these vital and valuable virtual supporters.

To learn more about the power of infographics, contact MDG today at 561-338-7797 or visit www.mdgsolutions.com.
Learn more about the Value of Infographics and check out MDG's infographics about Social Media: The ROI of Social Media, How Social Media Changed the Ad Game, and The Social Campaign:The Growing Reach of Social Media's Election Impact, Social vs Search and A Marketer's Guide to Pinterest.
Infographic by DemandForce.com.