Who is Winning the Mobile Wallet War?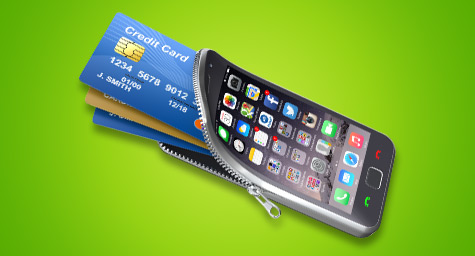 Amid the slew of products Apple unveiled last month—A big new phone! A bigger new phone! A watch! An updated operating system! A health tracker!—was one that slipped a bit under the radar: Apple Pay.
The lack of attention paid to this new mobile payment system is understandable—after all, it's hard to break through the noise when there are two new iPhones to play with.
Still, despite the lack of love from the press, Apple Pay should not be dismissed as a niche offering that's simply a little add-on to iOS8. The product, which will be included in a software update in the coming weeks, has the potential to fundamentally transform how consumers make purchases.
As Tim Cook, Apple's CEO, said when revealing Apple Pay: "I'd like to talk about an entirely new category of service, and it's all about the wallet. Our vision is to replace this, and we're going to start by focusing on payments."
The language sounds like typical Apple braggadocio, but the company may be able to deliver on this bold claim. When you see Apple Pay at work (for example, in this video), the product's appeal is clear: with a simple action—lifting your iPhone and putting a finger to the Touch ID button—you can immediately pay at checkout. Since this seems both easier and safer than pulling out a credit card and swiping, it is fair to ask: who needs a wallet?
So, is Apple now going to disrupt payments, just as it did everything from music to phones? Well, it might, but it might not.
The widespread use of the mobile wallet—which is already hugely popular in other countries, such as Japan—does seem likely to finally become a reality in the United States soon. However, it's not certain that Apple will dominate.
Why? Because Apple is by no means the only player—in fact, the company is arriving pretty late to the mobile-payment party. The space is already crowded with a host of firms that are fiercely competing to control a piece of this lucrative market.
Many of Apple's competitors are powerful, savvy, and well funded. There are dozens out there, but the most likely to succeed (right now), include:
Other Mobile Hardware Manufacturers and Software Providers: Since mobile payments inherently require a mobile phone, it's not surprising that other hardware manufacturers, such as Samsung and HTC, have developed their own offerings. However, the biggest challenger to Apple is its familiar nemesis: Google. The search giant rolled out its Wallet product a few years ago, and it has many of the same advantages, including existing relationships with vendors and a hugely popular mobile operating system (Android).
Wireless Carriers: A mobile wallet also requires a wireless connection so, again, it's not surprising that the carriers have banded together to create their own payment system. The unfortunately named ISIS platform was recently been rebranded as Softcard, and is currently both competing with Apple and working with it.
Financial Services: For the most part, the backbone for fulfilling mobile payments—processing, etc.—remains the good ol' credit card. MasterCard, Visa, and Amex have all developed their own mobile payment systems and are also working with all the other players in the space. In many ways they have the most to lose with mobile wallets, since the billions of dollars in fees they collect could disappear if some company manages to circumvent them.
Start-Ups and POS Vendors: Since the size of the mobile payment market is so huge, there have been a number of well-funded startups entering the space. These include LevelUp, Square, Paydiant, and many others. On the other end of the spectrum, old-school existing point-of-sale terminal vendors, such as VeriFone, have also launched their own platforms.
PayPal: What is sometimes forgotten when talking about this space is that there is already a clear leader in the digital payment market: PayPal. The eBay-owned platform is used by millions of customers and vendors, and has proven that it can handle huge volumes of payments securely. Given that, it's perhaps not surprising that a study conducted this year by Forbes found that PayPal is viewed as the most influential mobile platform among existing payment players (credit card companies, payment start-ups, etc.).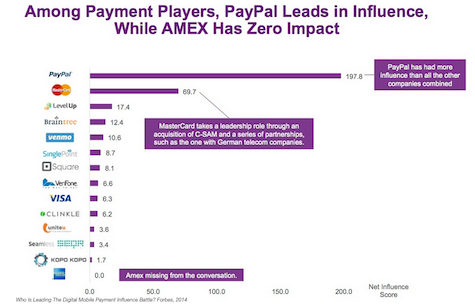 Can Apple overcome PayPal's advantage and its other competitors? At the end of the day, it'll come down to two factors.
First, the company will have to be seen as the easiest and most secure solution by consumers. The ease of use of Apple Pay seems pretty clear, though it's important to keep in mind that the platform is only easy if you have an iPhone. If you're an Android user, which more than half of Americans are, you're out of luck.
As for security, Apple has made a point of noting that its platform doesn't store credit card numbers, but rather creates a separate identifier. This could ease consumers' fears about data theft, but the company's recent bad press around the celebrity iCloud hacks, and the fact that Touch ID has already been shown to be vulnerable, may hurt.
The second piece of the mobile wallet puzzle is which payment system vendors ultimately prefer. After all, if consumers will only migrate to the platforms they can actually use at checkout.
Vendors will likely make their decisions based partially on basic factors: which platforms offer the lowest fees, which are the most secure, which are incorporated most into POS systems. However, the savvy companies will also choose based on which ones give them the most marketing opportunities—such as options for loyalty programs and messaging.
Ultimately, payments are the just the tip of the iceberg. The platform or, more likely, platforms, that win the mobile wallet war will not only take over swiping a credit card, but also replace scanning loyalty cards, carrying coupons, and many other things.
That's why Tim Cook said he was just "start(ing) by focusing on payments" with Apple Pay—there is much more to come in this wallet war. Game on.
Keep up with the latest trends in mobile. Contact MDG today at 561-338-7797 or visit www.mdgsolutions.com.
MDG is a full-service advertising agency and one of Florida's top branding firms. With offices in Boca Raton and New York City, MDG's core capabilities include branding, logo design, print advertising, digital marketing, mobile marketing, email marketing, media planning and buying, TV and radio, outdoor advertising, newspaper, video marketing, Web design and development, content marketing, mobile marketing, social media marketing, and SEO. To discover the latest trends in branding and advertising, contact MDG today at 561-338-7797.