Why an Engagement Ring is Only a Gem Because of Brilliant Marketing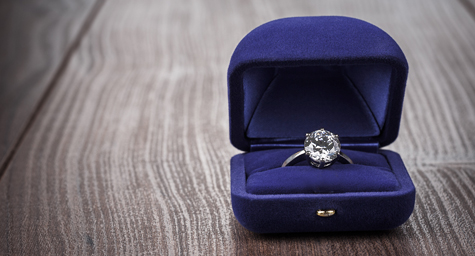 While we're all married to the notion that engagement rings are valuable symbols of love, the truth is that these diamonds depreciate in a heartbeat and their luster is just the illusion of multifaceted marketing. It's surprising to learn that an engagement ring is worth at least 50% less than the price paid for it the moment it leaves the jewelry store. Despite this depreciation, women of all ages still dream about diamond rings and couples feel compelled to spend thousands on these tokens. Yet behind this diamond devotion is actually "diamond delusion," which was all dreamed up in the early 1900s by DeBeers' mastermind advertising team at N.W. Ayer. For some clarity on this engagement ring marketing strategy, Hubspot.com explored its many facets.
It's important to know that diamonds have not been rare since 1870, when large diamond mines were found in South Africa. Faced with the fear that their huge diamond discovery would over-saturate the diamond market and drive down prices, the British financiers behind the mining efforts decided to monopolize the diamond market by creating De Beers Consolidated Mines, Ltd. in 1888. This enabled them to take ownership of the world diamond trade and establish a network of wholesalers around the globe. After taking complete control of distribution, they set out to inspire demand for their diamonds through marketing. Since Europe was focused on the coming war, they looked to America for an ad agency and found their perfect partner in Philadelphia advertising agency N.W. Ayer in 1938.
After extensive market research, they discovered that Americans deemed diamonds to be a luxury reserved for the very wealthy and were choosing to spend their money on more practical purchases like cars and home appliances. So how could the agency make diamonds a must for everyone at all income levels and prevent people from casually reselling them? By trumping the practical with the emotional. That's when the ad agency brilliantly tied diamonds to the most emotional of life's events—love and marriage. According to New York Times, N.W. Ayer's game plan was to "create a situation where almost every person pledging marriage feels compelled to acquire a diamond engagement ring." These acts would go hand-in-hand and be a match made in heaven, just like the couple themselves.
While the idea of engagement rings was not widely adopted at that time, the agency was confident that a well-executed marketing strategy could establish a tradition of diamond engagement rings among the public and position these diamonds as essential elements of courtship, romance, love, and marriage.
The agency first had to drive up the desire and demand for diamonds, so they leveraged the public's celebrity obsession and used the media to feature stories about celebrity proposals with details about their diamond engagement rings.
They used traditional advertising like newspapers and radio during the first half of the twentieth century. They placed prominent print ads full of entertaining and educational content, such as stories, trend reports, and fashion photos that featured diamonds without focusing on them. They didn't want to promote their particular brand or business, but rather sell both the sensational and sentimental facets of diamonds.
Interestingly, every De Beers ad at that time included a section called, "How to Buy a Diamond." It outlined which qualities contributed to a diamond's quality, as well as which questions to ask at the jewelry store.
This advertising approach was incredibly successful. Between 1938 and 1941, there was a 55% increase in U.S. diamond sales. This success spurred the ad agency to perfect their promotional strategy throughout the 1940s and persuade the public that diamonds were a must for marriage.
This led to a slogan that would become iconic in the industry and last more than most marriages, "A diamond is forever." The slogan captured and conveyed the sentiment that a diamond was eternal, just like your relationship. Not only would the slogan create a veil of value, but also discourage people from ever reselling their precious diamonds. This slogan has been a huge factor in De Beers' stunning advertising success and has graced every ad since 1948. More than 60 years after its creation, the slogan is still synonymous with diamonds and www.adiamondisforever.com even redirects visitors to De Beers' main website.
Essentially, De Beers created the illusion of financial value by tying it to emotional values. Through savvy strategic marketing, N.W. Ayers managed to position a simple product as a sparkling promise. Their approach completely changed the public's perception of romance, love, and marriage by making a diamond engagement ring a symbol of love and a core component of wedded bliss.
Still successful today, De Beers created demand from nothing by creating a situation and value proposition around their product.
Learn how to make your marketing mean something. Contact MDG today at 561-338-7797 or visit www.mdgsolutions.com
MDG is a full-service advertising agency and one of Florida's top branding and marketing firms. With offices in Boca Raton and New York City, MDG's core capabilities include branding, logo design, print advertising, digital marketing, mobile advertising, email marketing, media planning and buying, TV and radio, outdoor advertising, newspaper, video marketing, Web design and development, content marketing, social media marketing, and SEO. To discover the latest trends in advertising and branding, contact MDG today at 561-338-7797.