Why Aren't Physicians Attending to Social Media?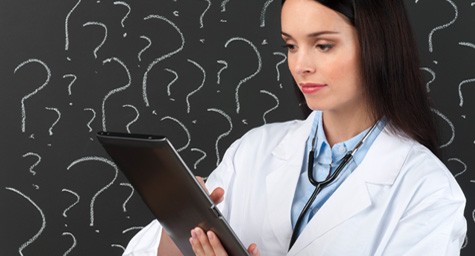 It's a medical mystery why so few physicians are active online. They may be committed to keeping their patients well, but they're ignoring the health of their practice by avoiding social media. Since studies show that one-third of U.S. consumers seek health information online, a practice must have a digital presence today if it wants to be seen and sought. Luckily, social media makes it easy to both reach prospective patients and strengthen the bond with current ones. To explain why so many physicians appear to be socially shy, HealthworksCollective.com featured the reasons for their reluctance, plus ways to relieve their online objections.
No Time to Give Social Media the Treatment It Deserves
Social media takes time to manage and maintain, so many doctors believe that they're too busy with patients and simply don't have the time to commit to social media. One way to overcome this hurdle is to assign all social media responsibilities to one of your front desk staff who is comfortable with communicating on various social channels. Since the front desk staff often are the first people that patients encounter, social media will enable prospective patients to build a rapport with that employee and have a familiar face when they visit.
Unsure of How to Operate
Physicians are experts in medicine, but often are inexperienced in marketing. This lack of knowledge makes many wary of launching a digital marketing campaign. Fortunately, an advertising agency that specializes in social media marketing can develop, maintain, and optimize a strong social presence for your practice. This kind of ad agency is popular with physicians who want to have a social media presence, but want it expertly managed.
A Lack of Healthy Computer Skills
With the industry-wide shift to online patient records, the ability to use a computer proficiently is essential to medical practices today. Computers ease and expedite many tasks to allow staff to achieve more, in less time. Surprisingly, this knowledge is basically all you need to use social media and market your practice on the Web.
The Practice is Doing Well
Congratulations on building a successful practice, but how are you maintaining that success? Since your practice is a business, it needs to be treated as a company and seek ways to stay competitive.
With today's consumers increasingly going online to actively seek medical care, a practice needs a strong digital presence in order to capture these prospects. And with more and more medical practices boldly featured online and in social media, your practice must follow their lead or risk losing future patients.
Physicians need to realize that social media is good for their practices. It helps them stay in touch with patients while staying ahead of competitors.
Keep your finger on the pulse of healthcare marketing. Contact MDG.
MDG, a full-service advertising agency with offices in Boca Raton and New York City, is one of Florida's top healthcare marketing companies and branding firms, whose healthcare clients include Dental Care Alliance, MDVIP, Max Planck Florida Institute, HCA East Florida, Primary Pharmaceuticals, and MD Now. MDG's core capabilities include branding, logo design, print advertising, digital marketing, mobile marketing, email marketing, media planning and buying, radio and TV advertising, outdoor, newspaper, video marketing, infographic development, website design and development, content marketing, social media marketing, and SEO. To learn more about the latest trends in healthcare marketing, contact MDG.