Why Hearst is Taking its Video Ads in a Vertical Direction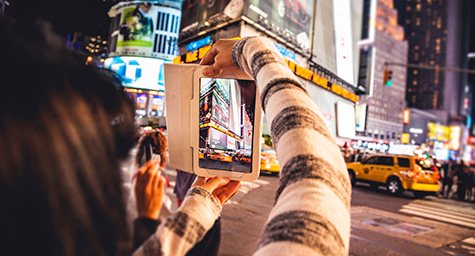 Vertical video has become a standard in social media and apps, but now it's also being viewed as a vertical video format. Publishing giant Hearst recently launched a full-screen, vertical video ad on its mobile websites, which it's serving via direct deals with brands. Hearst believes that vertical video ads on its mobile sites will be in high demand by advertisers, especially for its magazines for younger audiences since the desktop versions of these ads have proven to be more engaging and popular with a younger demographic. To see why this vertical vehicle has been snapped up from Snapchat, Facebook, and Twitter and positioned for video advertising, Digiday.com shared the whole story.
Hearst was among the first digital publishers to embrace vertical video. In addition to using the format on a few of their Snapchat channels, they also have been featuring vertical video in their desktop ads. Today, their half-page vertical desktop ads have become more effective than their traditional skyscraper ads, which used to get the greatest results.
Due to this impressive performance, Hearst has started veering its vertical ads toward its mobile websites. The publisher is now offering brands the ability to run creative on its many mobile websites. So far, Hearst has seen outstanding results from its vertical video ads on mobile and only expects that success to grow.
Digital publishers and advertisers have long had their eyes on vertical video for a number of reasons. For one, vertical video and other multimedia formats are improving the quality and price of mobile ads. Secondly, publishers are accepting the need to monetize the increasingly popular mobile Web and realizing that interstitial ads allow them to demand a higher price than standard banners.
With Hearst's strong entry into mobile vertical video ads, industry experts expect other publishers and brands to follow in this valuable video direction.
Watch what's new in video advertising. Contact MDG.
MDG, a full-service advertising agency with offices in Boca Raton and New York, NY, is one of Florida's top branding firms. MDG's capabilities include print advertising, direct mail marketing, branding, logo design, creative, media buying and planning, radio and TV advertising, outdoor, newspaper, digital marketing, website design and development, online video advertising, infographic development, email marketing, video marketing, mobile marketing, content marketing, social media marketing, paid search marketing, and SEO. To learn about the latest trends in advertising and branding, contact MDG.