Why Infographics are Important in Content Marketing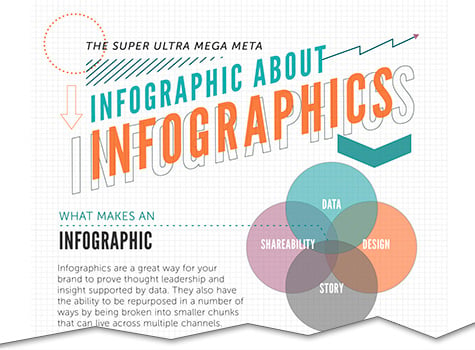 Words can be powerful, but pictures pack a punch. They convey a world of meaning with a quick glance and make complex content understandable and scannable. In fact, research has shown that 90% of the information transmitted to the brain is visual. Infographics provide these visual vehicles in the form of graphic design to both simplify and clarify more complicated content. These are just some of the reasons why infographics are so valuable and versatile in content marketing. Yet infographics must be more than pretty pictures to communicate effectively. They require high-quality content to be effective for content marketing. Forbes.com explained the need for solid and stimulating content, while Business2Community.com expressed their power in the perfect way—an infographic by OneSpot.com.
An Inside Look at Infographics
Infographics first appeared in 2008 and have rapidly grown in popularity to the point of ubiquity. Their value lies in the way they simplify complex data and details in a compelling way for greater clarity.
According to research, people are 80% more likely to read content if it features color images. And infographics are 30 times more likely to be read that text. Marketers and brands have repeatedly seen the power of infographics for content marketing, which is why they've become so widespread.
Infographics have become so popular in content marketing for a variety of reasons, including:
They allow extensive marketing statistics to be expressed in a clear and compelling style.
They distinguish brands in brand publishing.
They provide a way for brands to express distinction, thought leadership, and share data that supports their company.
Words of Advice for Creating Great Infographics
While bright colors and bold shapes may catch the eye, it's quality content that captures attention. That's why infographics must be backed by high-quality content based on interesting information, reliable research, astute analysis, relevant humor, and sincere emotion. The pictures may entice, but it's the content that educates, enlightens, and evokes a reaction.
To create the most effective and engaging infographics, Business2Community.com featured the following tips:
Develop a sensible, easy-to-follow flow of information
Use a palette of three colors with contrasts
Select similar styles and proportions of type
Keep text concise and legible
Create balance by using negative space
Make sure to always cite your sources
It's easy to see why infographics have maintained their momentum in marketing. With quality content and smart design, they can keep helping brands and marketers communicate their content to ensure that consumers get the picture.
To learn more about creating these powerful graphics, check out this infographic.

Infographic via OneSpot.com.
Discover strategies for successful content marketing. Contact MDG today at 561-338-7797 or visit www.mdgsolutions.com.
MDG, a full-service advertising agency with offices in Boca Raton and New York, NY, is one of Florida's top branding firms. MDG's capabilities include print advertising, direct mail marketing, branding, logo design, creative, digital marketing, media buying and planning, radio and TV advertising, Web design and development, online video advertising, infographic development, email marketing, mobile marketing, inbound marketing, content marketing, social media marketing, paid search marketing, and SEO. To learn about the latest trends in advertising and branding, contact MDG today at 561-338-7797 or visit www.mdgsolutions.com.