Why Marketers Must Stay Open to Sending Emails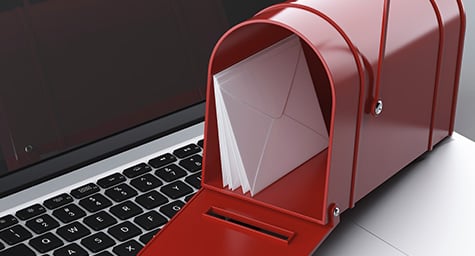 Research is sending the message that email remains a worthwhile way to connect with consumers. It may have been an early form of digital marketing, but email has remained extremely effective for all kinds of brands and businesses. Yet with new types of digital marketing constantly coming on the scene, many marketers may wonder if email still leads to success. Luckily, DMNews.com found an extensive amount of evidence that shows that email still clicks with customers. Take a look at this powerful proof to see which tactics remain the strongest and which trends are opening brand-new ways to use email to maximize digital marketing.
Remarkable Rates of Email Effectiveness
Email has endured because it continues to prove its performance. It has remained a valuable vehicle for reaching and retaining customers. According to McKinsey & Company, email is almost 40 times more effective than marketing on Facebook and Twitter for customer acquisition.
Recipients Address Their Actions
Consumers display distinct beliefs and behaviors with email marketing. It's important for marketers to understand their preferences and practices in order to make their emails effective. Take a look at these surprisingly statistics:
A whopping 70% of people report always opening emails from their favorite brands and businesses. (ExactTarget)
71% of email recipients will simply delete an email if it doesn't display properly. (BlueHornet)
61% of shoppers enjoy getting weekly promotional emails, while 28% would prefer them on a more frequent basis. (MarketingSherpa)
Trends and Tendencies
Email has stood the test of time and continues to be a top digital marketing method. Today, 122,500,453,020 emails are sent every hour, according to research from MarketingProfs. But email has remained effective by evolving with tastes and technology. Open your eyes to this insight on using emails today and tomorrow:
In Q1 2015, there was a 15.5% increase in the volume of email marketing compared to Q1 2014. (Experian Marketing Services)
53% of emails are opened on mobile devices, which is almost triple the mobile opens from three years ago. (MNSearch Summit)
28% of emails are opened on an Apple iPhone. (Litmus)
16% of email opens occur in Gmail. (Litmus)
12% of emails are opened on an Apple iPad. (Litmus)
Fewer than 10% of emails are opened in Outlook, via Apple Mail, and with Google Android. (Litmus)
There is a 50% increase in conversion rates with the use of marketing automation. (Aberdeen Group)
Email is still a powerful and popular digital marketing method that will continue to evolve to meet marketers' needs of tomorrow.
Discover what matters in digital marketing. Contact MDG today at 561-338-7797 or visit www.mdgsolutions.com.
MDG, a full-service advertising agency with offices in Boca Raton and New York, NY, is one of Florida's top branding firms. MDG's capabilities include print advertising, direct mail marketing, branding, logo design, creative, digital marketing, media buying and planning, radio and TV advertising, Web design and development, online video advertising, infographic development, email marketing, mobile marketing, inbound marketing, content marketing, social media marketing, paid search marketing, and SEO. To learn about the latest trends in advertising and branding, contact MDG today at 561-338-7797 or visit www.mdgsolutions.com.