Why Marketers Should Still Love Radio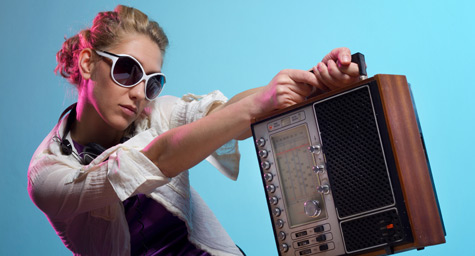 Imagine this: A media platform made up of a manageable number of outlets that is capable of reaching the vast majority of Americans in every demographic group, every single day.
That sentence could describe the Golden Age of broadcast television (R.I.P), but in this case it actually refers to something else: the current state of broadcast radio.
That's right, while brands and marketers are worrying about how to connect at scale in the age of digital fragmentation, good ol' radio remains extremely popular with a large, stable audience in the United States.
A recent report from Nielsen found that 244 million people—91.5% of all Americans age 12+—listen to the radio each week.
This continued affinity for radio is true across all demographic segments, including race, gender, geographic location, income, and age.
In fact, 70% of Millennials—the most digital-savvy (and media-fickle) generation—listen to broadcast radio each week.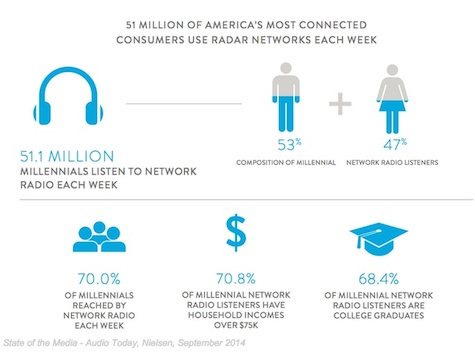 Moreover, people aren't just listening to broadcast radio content, they're also listening to radio advertisements.
The Nielsen study found more than two-thirds (68%) of Americans over the age of 12 listen to at least one network radio commercial each week. Again, this holds true across almost all age groups.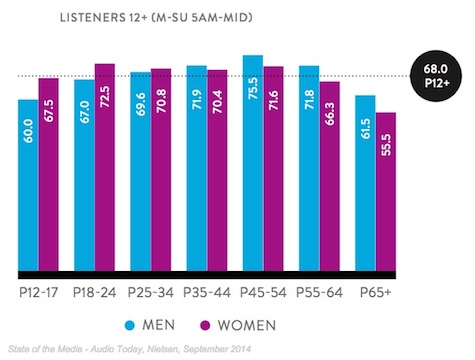 What is behind the continued reach of broadcast radio? A clue may lie in this statistic from the Nielsen report: 72% of all radio listening occurs outside of the home.
In other words, most people are listening to radio while commuting, at a job/school, or in a public place (store, gym, etc.). This would explain why radio commercials remain effective: They are usually heard in situations (driving/working/shopping) where they cannot be easily skipped.
So what are people listening to on the radio? Nielsen found that this varies significantly by both age and time of year.
Over the past summer, the most popular format nationwide was Adult Contemporary, followed by Adult Alternative, Rock, News, and Sports.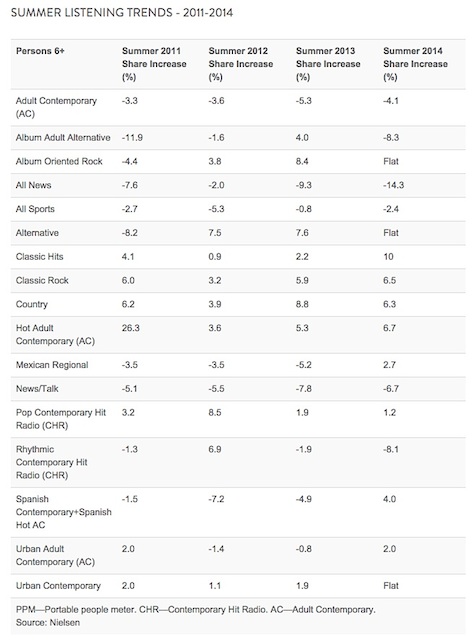 One thing to note is that none of this includes online/digital radio, which has emerged as a powerful media channel in its own right.
A study from Edison Research found 47% of Americans have listened to online radio in the past month—nearly double the percentage from just four years ago.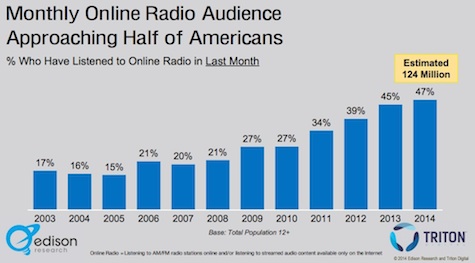 Basically, whether you look at the numbers for traditional broadcast stations or online platforms, radio is having a moment. The medium is connecting widely across all sorts of demographic groups, while also maintaining high engagement levels with radio advertising. These days, that's a rare combination indeed.
Leverage the latest opportunities in radio advertising. Contact MDG today at 561-338-7797 or visit www.mdgsolutions.com.
MDG, a full-service advertising agency with offices in Boca Raton and New York, NY, is one of Florida's top branding firms. MDG's core capabilities include print advertising, direct mail marketing, branding, logo design, creative, digital marketing, media planning and buying, TV and radio advertising, Web design and development, online video advertising, email marketing, content marketing, social media marketing, and SEO. To learn about the latest trends in advertising and branding, contact MDG today at 561-338-7797 or visit www.mdgsolutions.com.