Why Marketers Should View Video as a Way to Reach Millennial Women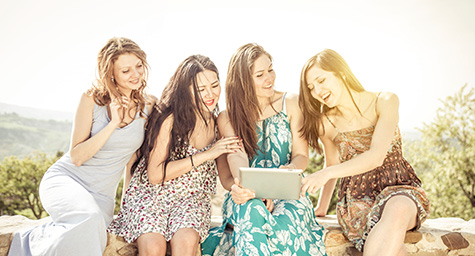 All eyes are on video today as more and more consumers tune into online video content. A stunning 300 hours of video are uploaded to YouTube every minute for its more than 1 billion users to enjoy. And the explosion of social video platforms like Vine and Vimeo are offering even more places to view these videos. According to the IAB, 25% of all Americans watch digital video, with Millennial women driving its rapid growth. Marketers know that video is useful because it elevates storytelling beyond the basic narrative and provides a vehicle for delivering compelling content to Millennials, who tend to disregard advertising. Since video matters so much to Millennial women, it needs to matter to social media marketing experts trying to reach this important audience. To help brand marketers create video content that appeals to these young women, MediaPost.com examined Millennial women's views on video from its recent "What Women Watch" report and shared their video highlights.
Comedy and Cuteness are in High Demand
According to the report, most Millennial women enjoy watching and sharing videos with funny or adorable elements. Respondents viewed the following content as most compelling:
Funny/Cute 80%
Beauty Tutorials 67%
Do It Yourself 61%
Product Reviews 60%
Millennial Women Share a Love of Sharing on Facebook
When it comes to sharing videos with their social media circles, Millennial women favor Facebook. Their second choice for sharing was showing others videos directly on their digital screens.
YouTube is Where Most Millennial Women Watch Videos
A whopping 63% of Millennial women subscribe to YouTube channels. In comparison, a mere 36% of women across other generations are YouTube subscribers.
Instagram and Twitter Videos Also Get Their Share of Millennial Women
Rather than limit their video viewing to YouTube and Facebook, Millennial women also use Instagram and Twitter to discover videos. Research shows that Millennial women are significantly more likely to discover videos on these social media platforms than women of other generations.
Sharing is Caring to Millennial Women
Millennials love sharing their lives on social media, so it's only natural that these young women like sharing their videos. According to the report, 88% of Millennial women shared videos with their friends, family, or social media followers. Meanwhile, this sentiment is shared by only about 27% of other female generations.
Millennial Women Tune in to Many Videos Each Day
Watching one video is rarely enough for young women. In fact, 70% of Millennial women watch numerous videos per day. Yet only about 33% of other female generations share this preference for multiple video viewing.
It's easy to see that video connects with Millennial women, which is why social media marketing specialists need to use video to connect with this coveted audience.
Watch what's happening in online video advertising and social media marketing. Contact MDG today at 561-338-7797 or visit www.mdgsolutions.com.
MDG, a full-service advertising agency with offices in Boca Raton and New York, NY, is one of Florida's top branding firms. MDG's capabilities include print advertising, direct mail marketing, branding, logo design, creative, digital marketing, media buying and planning, radio and TV advertising, Web design and development, online video advertising, email marketing, content marketing, social media marketing, and SEO. To learn about the latest trends in advertising and branding, contact MDG today at 561-338-7797 or visit www.mdgsolutions.com.