Why Millennials Opt for the Ease of e-Commerce Over the Call of the Mall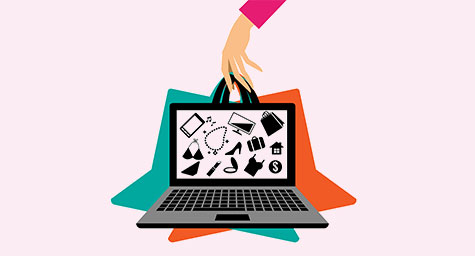 Millennials are the first generation born and raised with the Internet. And this year marks the first time in history that traditional retailers will generate half of their sales growth from online purchases, according to Stifel Financial Corp. This is no mere coincidence, but a result of millions of Millennials who prefer buying online at e-tail sites to standing in line at retail stores. With e-commerce doubling in size almost every five years and showing no signs of slowing, traditional retail has been struggling stay in business and remain relevant in today's growing e-commerce economy. So how can physical stores compete with the quick-click digital mindset of Millennials? BusinessofFashion.com shopped around to discover how Millennials will continue to affect the business of buying.
Why Millennials Want More Than a Mall
It's important to realize that while this young group of Americans in their 20s and 30s may be watching their pennies today, their spending is expected to more than double to $1.2 trillion by 2020 and comprise one-third of all U.S. purchases, cites research from Accenture Plc.
Millennials have never developed a love for the mall because they've always been able to buy everything online. No wonder a survey from Urban Land Institute showed that more than one-third of Millennials rarely or never go to an enclosed mall, yet about 50% spend an hour or more a day browsing or buying online.
And it's not just a lack of comfort or culture, the majority of Millennials prefer to shop online for the convenience and superior service.
The convenience of e-tail is hard to deny, but better service is something that traditional retailers have long asserted was the reason to visit their stores. They believed that their one-on-one, personal service was their competitive advantage over their remote online opponents. But Millennials value speed and ease over face-to-face friendliness, so traditional stores have lost that edge.
How Can Retail Stores Withstand e-Commerce?
Traditional stores have been well aware of e-tail's booming business, so they've tested and tried all kinds of technology over the last few years. They've expanded shopping to online sites, built speedier digital checkouts, and offered price matching to online outlets and other local stores. While all of these efforts have certainly helped, they just haven't been enough to bring shoppers back through stores' doors.
The problem is that retailers still earn most of their sales from their physical stores. Yet Millennials do most of their shopping on online sites. But rather than simply morph into another online shopping site and lose the bulk of their business, stores need to leverage their point of difference, which lies in the point of purchase.
The solution is blending the personal touch of their physical stores with the speed and ease of their online sites. This will provide a customizable, multi-faceted shopping experience. Buyers can choose the online ease of e-commerce, yet still have the option and added convenience of visiting a physical store. As a result, retailers can position their physical stores as an added advantage that online-only sites can't offer.
Implement new e-tail strategies to boost your e-commerce revenue. Contact MDG.
MDG, a full-service advertising agency with offices in Boca Raton and New York, NY, is one of Florida's top branding firms. MDG's capabilities include print advertising, direct mail marketing, branding, logo design, creative, digital marketing, media buying and planning, radio and TV advertising, Web design and development, online video advertising, infographic development, email marketing, content marketing, lead generation, social media marketing, and SEO. For the latest trends in advertising and branding, contact MDG.