Why Omnichannel Technology is Big Business in B2B E-Commerce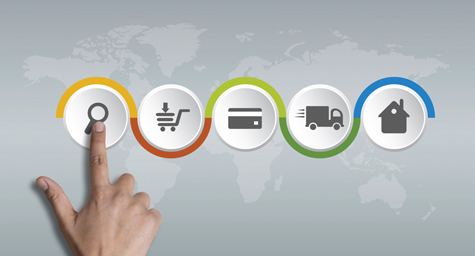 Today, B2B buyers mean business about their desire for omnichannel technology in business-to-business e-commerce. Research shows that 75% of B2B buyers worldwide would re-purchase from a supplier that had omnichannel abilities. This is because omnichannel methods ensure a seamless and optimized customer experience across a company's multiple touch points, regardless of whether purchases are made from a desktop device, by mobile means, or in person. As a result of this consumer demand, an Accenture survey found that two-thirds of suppliers are either currently implementing or planning to invest in omnichannel development over the next six months. To see why omnichannel technology will soon be sweeping the B2B landscape, SDExec.com shared its four main business benefits.
1. It Maximizes the Mobile Experience
Mobile has become a business necessity, with 42% of B2B buyers using a mobile device during some point of the purchasing process. To ensure an optimal mobile experience, it's important to pay attention to a website's responsiveness in both design and usability throughout the entire purchase process. By optimizing the e-commerce mobile experience, a business can have a huge advantage with customers.
2. It Personalizes the Purchasing Process
Personalization has become a priority in the customer experience. And omnichannel technology allows a business to provide a personalized experience to each customer on every supply channel throughout the purchasing process.
3. It Speeds and Simplifies the Purchasing Process
Vendors demand visibility of their products, available inventory, and precise order data at every stage in the supply chain. An omnichannel strategy fulfills these vendor needs by proving complete transparency on each and every channel. Such visibility promotes real-time decision-making on many important factors, from inventory to pricing to delivery. And as technology evolves, companies must keep improving its many fulfillment abilities on every single channel.
4. It Organizes and Optimizes the B2B Purchasing Experience
With so many different departments involved in the supply channel, providing a good customer experience can be extremely complicated. But an omnichannel strategy can streamline all of the elements involved in the chain supply. This makes it much easier to leave both vendors and customers fulfilled.
By embracing omnichannel technology, a B2B business can deliver a more efficient and effective e-commerce experience.
Learn about the latest in B2B marketing. Contact MDG.
MDG, a full-service advertising agency with offices in Boca Raton and New York, NY, is one of Florida's top branding firms. MDG's capabilities include print advertising, direct mail marketing, branding, logo design, creative, media buying and planning, radio and TV advertising, outdoor, newspaper, digital marketing, website design and development, online video advertising, infographic development, email marketing, video marketing, mobile marketing, content marketing, social media marketing, paid search marketing, and SEO. To learn about the latest trends in advertising and branding, contact MDG.