Why Online Travel Marketers Must Explore Mobile Marketing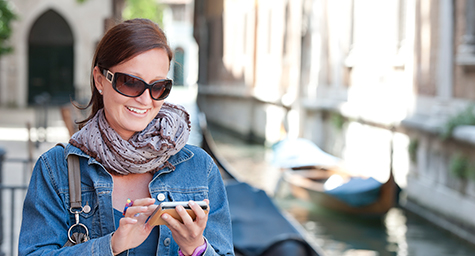 Today, mobile is the top destination for travel marketers looking to make the most of their marketing spend. According to eMarketer, 35.6% of U.S. mobile travel bookers will shop for travel on smartphones this year. This amount is expected to rise to 42.3% in 2016, and up to 48.8% in 2017. Beyond the U.S., Econsultancy reported that more than 30% of worldwide online travel bookings will be made on mobile devices by 2017. With travelers rapidly moving to mobile to research, reserve, and review their trips, mobile marketing has clearly become the key to connecting with travelers today. Forbes.com shared some timely tips to help travel marketing experts provide a memorable mobile experience.
Revisit Your Website
According to Econsultancy, almost three-quarters of mobile travelers who tried using a non-mobile-optimized website were sent back to their search results, which led them to look for a mobile-optimized website to plan their upcoming travel. This clearly shows that mobile-optimized websites have a major advantage in acquiring travelers.
This is why online travel marketers need to review their mobile websites to ensure that they are viewable and useable on every mobile device.
It's also important for a website to be continually updated with current travel information. With so many travelers planning trips via mobile either spontaneously or at the last minute, they need the most recent and reliable data to make their travel decisions.
Be Ready to Go for the Holiday Rush
For many, travel is a tradition during the holidays. And with more and more people planning travel via mobile, online travel marketers can expect a huge leap in bookings beginning in the fall. In addition, many people make last-minute trips this time of year, which will increase mobile browsing and booking even more.
With the holiday travel season already starting, online travel marketers must hurry to optimize their mobile websites for the hordes of holiday travelers. Today, if a website isn't mobile friendly, that company is likely to lose a lot of travel business.
For all of these reasons and more, travel marketers must optimize their websites for mobile in order to welcome more mobile bookings.
Check out the latest in hospitality marketing. Contact MDG.
MDG, a full-service advertising agency with offices in Boca Raton and New York, NY, is one of Florida's top hospitality marketing companies and branding firms. MDG's core capabilities include advertising, branding, logo design, creative, infographic development, digital marketing, creative media planning and buying, radio and TV advertising, website design and development, email marketing, mobile marketing, content marketing, social media marketing, and SEO. To stay on top of the latest trends in travel and hospitality marketing, contact MDG.