Why Social Media is Ideal for Sharing a Shared Passion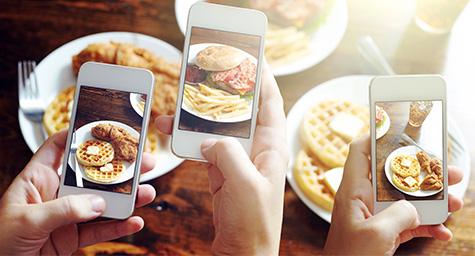 People are passionate about many things and tend to seek out others who share their devotion and emotion. And they often find those fellow fans and fanatics in social media communities. Today, these social media communities provide places for people intent on an interest to talk about the topics that pique their interest. These communities can also be used by brands to both promote their products and increase their reach among people with a passion for their specialty. The latest example is @TwitterFood, which should feed the needs of foodies looking to share their fixation with food. Twitter's official blog featured more on its new foodie community, which shows how social media offers ways to connect with like-minded markets.
The Dish on @TwitterFood
On @TwitterFood, foodies will find the food-centric content they crave. From beautiful pictures of tempting meals to quick cooking demos and 140-character recipes, this new Twitter account provides a forum for foodies to share their love of food. It's also a place for food brands, celebrity chefs, and foodie publications to promote their tempting offerings.
Why Social Media Communities are Also the Ticket for Hospitality Brands
Just as @TwitterFood satisfies foodies, social media communities can be customized to suit any intense interest. And brands can use these social communities to reach a specific segment of people who are passionate about what they offer.
For example, hospitality brands like hotels and resorts can promote their properties and provide helpful information in communities where travelers talk about trips. Some social communities let travelers share their memories about particular places, while others focus on favorite travel activities. Hospitality marketing experts can find the communities where their target guests gather, and then either join the conversation or place ads for their brand on the site. Either way, these communities provide outstanding exposure to their target travel market.
And many hospitality brands even build their own social communities. They create friendly forums where their loyalty program members and prior guests can gather and share their experience with the brand.
Today, social media communities are commonly created around common interests and offer uncommon opportunities for brands to reach a forum of fans.
Learn effective social media marketing strategies. Contact MDG.
MDG is a full-service advertising agency and one of Florida's top branding firms. With offices in Boca Raton and New York City, MDG's core capabilities include branding, logo design, print advertising, digital marketing, mobile advertising, email marketing, media planning and buying, TV and radio, outdoor advertising, newspaper advertising, video marketing, retail marketing, Web design and development, content marketing, social media marketing, and SEO. To discover the latest trends in advertising and branding, contact MDG.