Why Women's Fashion Brands are Designing for Men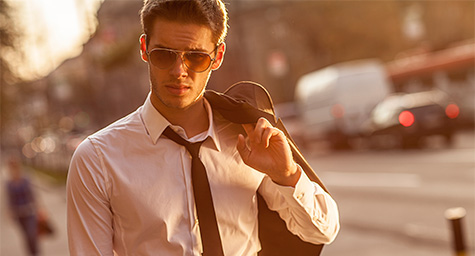 Trends in women's fashion have often come from menswear, but now the latest trend in women's apparel is to expand the brand to men. Today, more and more women's fashion lines are starting to design for men. As men have become increasingly style-conscious in recent years, the menswear industry has boomed in the U.S. to the point that it's growing faster than women's wear. In fact, menswear retail sales soared to $60.8 billion in 2013, which was 5% higher than the prior year. Men in larger cities have always strived to dress to impress, but now fashion is clearly in fashion for regular guys all over the country. As a result, women's wear brands are looking to get their labels on men. AdWeek.com offered a look at this hot trend in retail marketing.
Women's Brands Going After the Man
It appears that both American and European designers are following this trend toward men:
Michael Kors plans to grow its menswear collection into a $1 billion business with as many as 500 male-oriented retail shops by 2017.
Coach is expanding its menswear selection by introducing a luxurious selection of men's shoes and leather goods this fall, followed by a full line of men's apparel next year.
Prada plans to open 50 men's stores and almost double its menswear sales to nearly $2 billion in the next three to five years.
Luxury conglomerate LVMH has invested $135 million to expand its men's luxury footwear label Berluti into a more extensive apparel and accessories brand.
Tory Burch hired a former executive from Coach's men's line to oversee a new men's accessories line for spring 2015.
Michael Stars is launching its first men's collection in the next few weeks.
Moschino debuted its first men's collection this summer.
La Perla is about to release a luxurious line of men's robes and similar garments.
Why Men are Seeking Style
It looks like men are no longer the stereotypical reluctant shoppers. In fact, they actually care more than ever about looking their best. This can be attributed to a variety of fashion factors:
For one, men's style blogs have become mainstream must-reads.
Another is that the explosion in online shopping has brought designer apparel just a quick click away.
Now that actors and celebrities can't walk the red carpet without talking about their outfits, fashion is seen as cool conversation.
Since athletes are being sponsored by fashion brands along with sports companies, these players are becoming known for their style as much as their sport.
But while men have opened their eyes to the world of fashion, it remains to be seen whether they'll open their closets to women's fashion brands. Industry experts believe that men may not actively seek out famous women's brands, but they won't be opposed to them if they happen to like their looks.
Marketing to Men
Of course, marketing will be key to getting men to accept women's fashion brands. This means that these brands will need to distinguish their menswear lines on a retail level.
Many designers are planning to open more men's stores or creating exclusive men's apparel areas in their existing stores. Some are trying to men make feel comfortable by creating club-like atmospheres and adding cool features, such as barbershops and cocktail service.
And e-tailers like Net-a-Porter and Shopbop have developed special men's sites that display a stylish selection of designer goods, along with editorial content designed to help the male shopper.
According to industry experts, men are totally different customers than women because once they find a brand they love, they'll stay loyal to that designer for many seasons to come.
See what's trending in retail marketing. Contact MDG.
MDG is a full-service advertising agency and one of Florida's top branding firms. With offices in Boca Raton and New York City, MDG's core capabilities include branding, logo design, print advertising, digital marketing, mobile advertising, email marketing, media planning and buying, TV and radio, outdoor advertising, newspaper, video marketing, Web design and development, content marketing, social media marketing, and SEO. To discover the latest trends in advertising and branding, contact MDG.