Why Your Brand Should Get Into the Streaming Game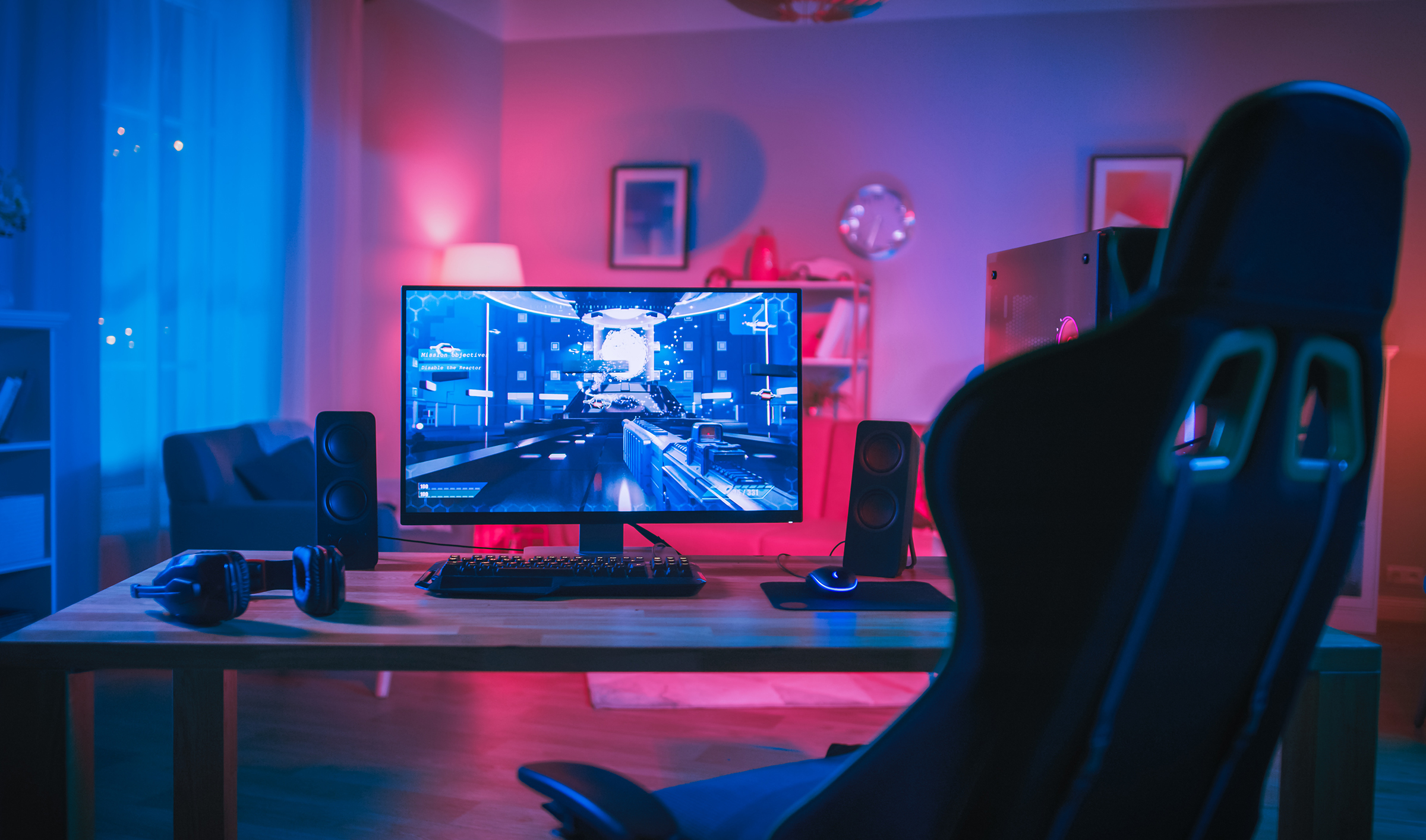 The idea that video gamers play for hours in isolation is outdated. Video gaming has transformed over the past decade, becoming a deeply social activity.
Today, esports—organized, multiplayer video game competitions—are a multibillion-dollar business. This rapidly growing entertainment market offers valuable opportunities for brands to reach their target audiences, as well as engage in powerful new ways.
Contributing to the popularity of esports are live streaming services, which have helped to normalize watching others play video games. Esports' rapid growth is partly because streaming services like Twitch offer a range of viewing metrics that make it easier for teams to find sponsors for their tournaments.
So, what do marketers need to know about esports and their relationship with video live streaming services? Here are some key insights:
What are esports?
Esports, also known as competitive gaming, are when experienced gamers (often professionals) face off as individuals or in teams in video games that are popular with the average player. These include titles such as Fortnite, Madden NFL, NBA 2K, Apex Legends, and Overwatch. The competitors are watched and followed by fans across the world, who either attend the live events or tune in online.
There are also ample sponsorship opportunities. Tournaments can generate millions of dollars in prize money, which is typically split among the players on the winning teams. This means that esports players, similar to traditional athletes, can rake in big money, with the top tier easily earning six figures a year.
2019 represents a significant breakthrough for the global esports market. It's the first time the industry is projected to surpass a billion dollars in revenue, with more than $897 million (82% of the $1.1 billion market) coming from media rights, sponsorships, and advertising.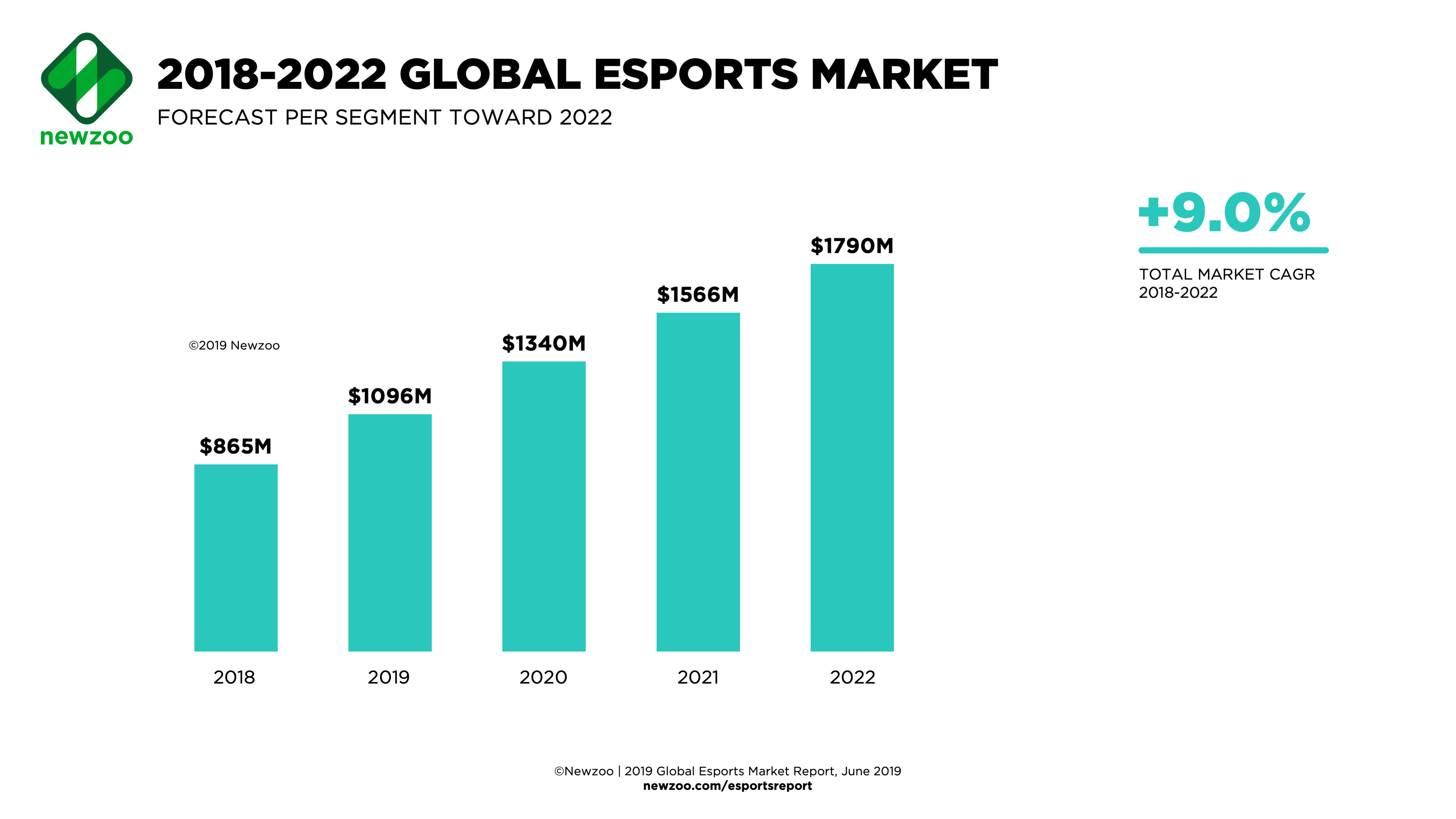 What are the popular streaming services?
Several live streaming services allow viewers to watch video games being played in real-time, which enables gamers to build followings. Twitch is the most popular service with audiences—and it's also the best suited for marketing. Other platforms include Mixer, Facebook Gaming, YouTube, and Steam TV.

Live video streaming services not only allow players—both professional and non-professional—to transmit live video to their audiences, but also to simultaneously engage in conversations. The experience is truly interactive; audience members can communicate with the broadcaster and other viewers via chat messages.
People can stream and watch on a PC, tablet, and smartphone, as well as on popular gaming consoles such as PlayStation and Xbox.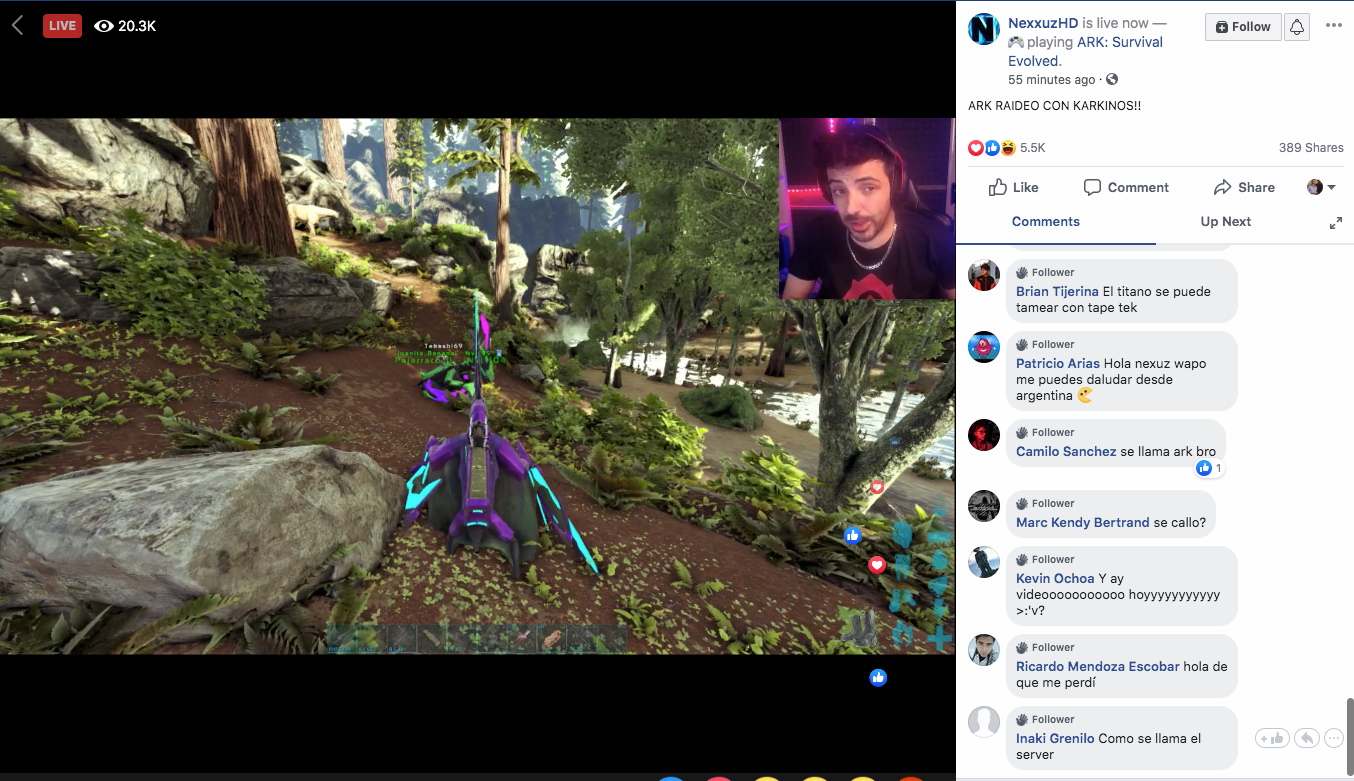 Example of a stream from Facebook Gaming.
Why should advertisers care?
To say streaming platforms are only used for watching gamers would be selling them short. They're also powerful marketing channels that offer a variety of options for advertisers.
For example, brands can target audiences on Twitch through the following ad placements:
Super Leaderboard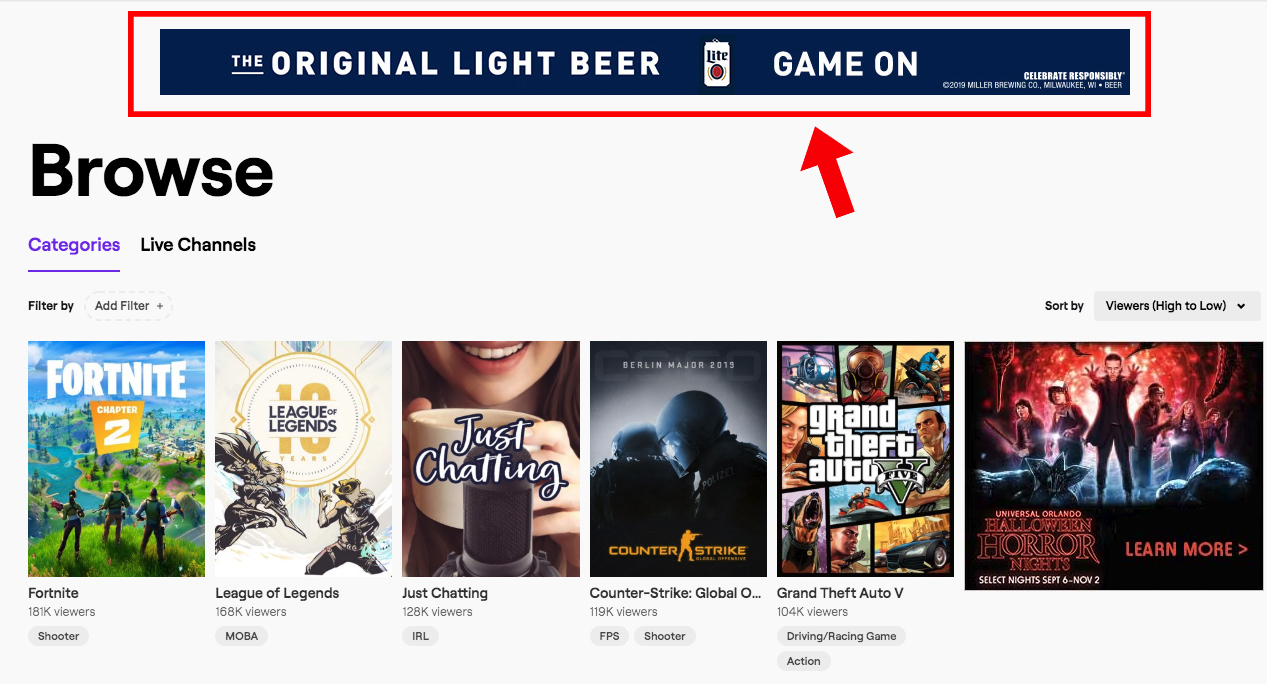 Twitch's super leaderboard ad placement engages viewers as they're searching for content.
Medium Rectangle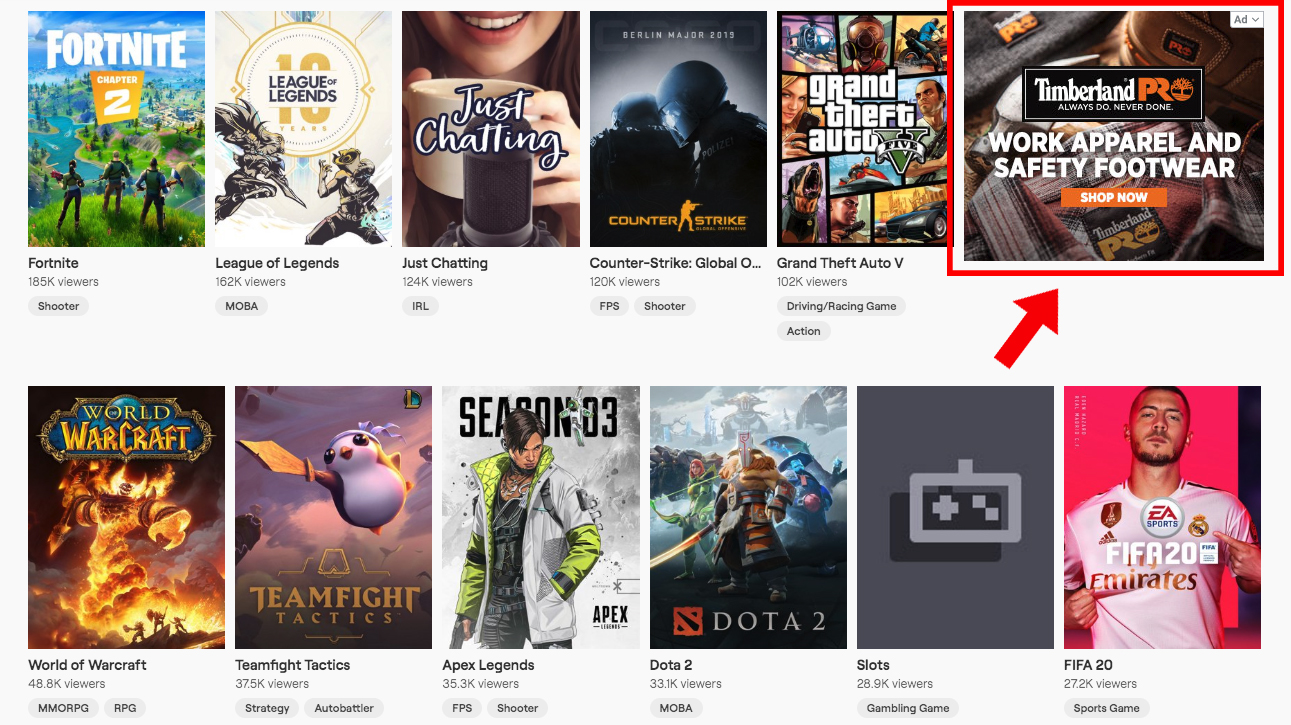 The medium rectangle ad unit engages viewers as they're scrolling and exploring content.
Synced Units
The synced units option amplifies the impact of creative assets by enabling them to interact with one another (for instance, a medium rectangle ad can correspond to a super leaderboard placement).
Homepage Carousel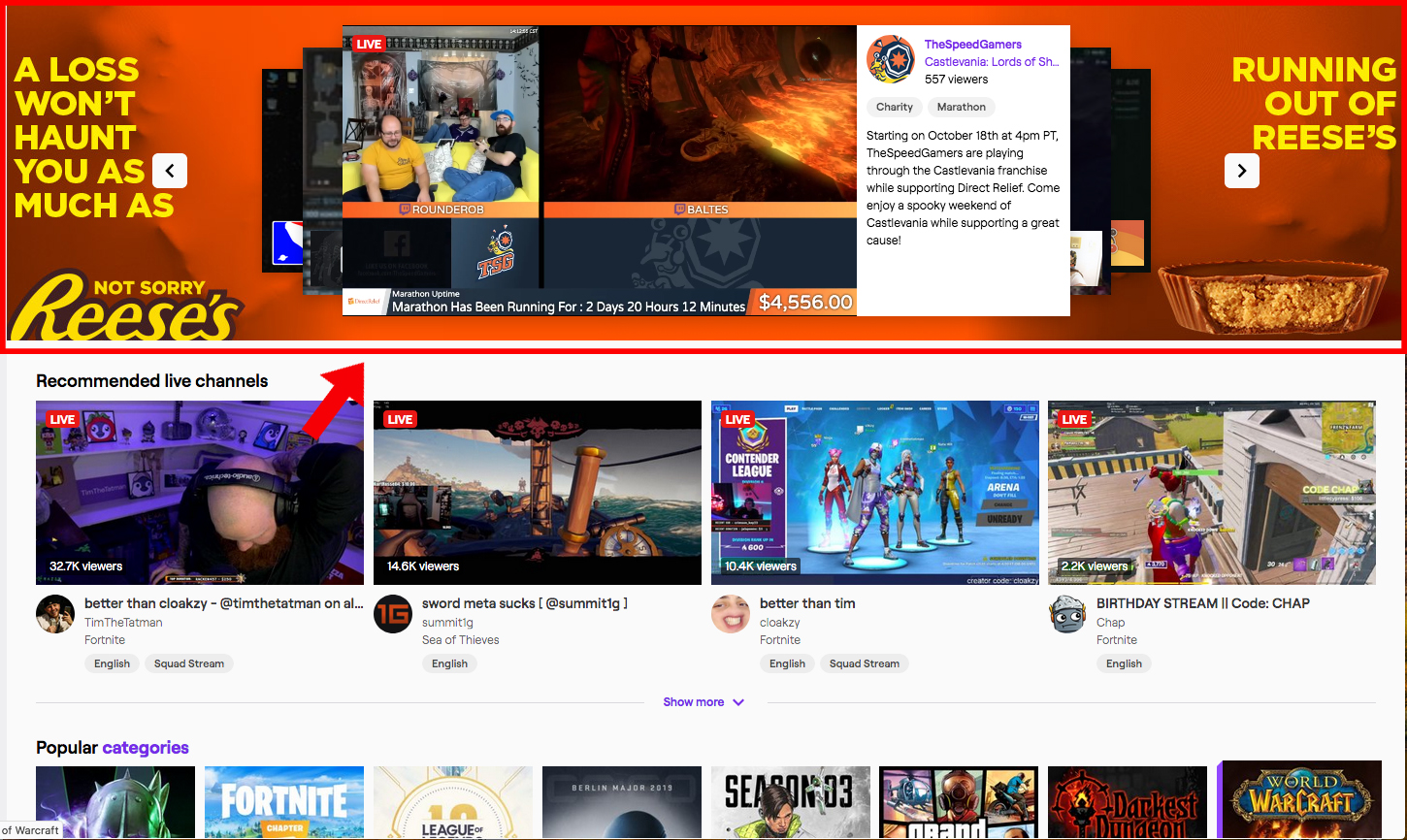 The homepage carousel allows brands to promote their livestream channel content on the homepage, front and center.
In addition to traditional advertising, streaming platforms enable marketers to run influencer campaigns. For example, a streamer could include your brand in a sponsored stream, include a brand placement, or mention your brand organically during the broadcast.
On Twitch, the influencer-focused Bounty Board makes running these campaigns especially easy:
Bounty Board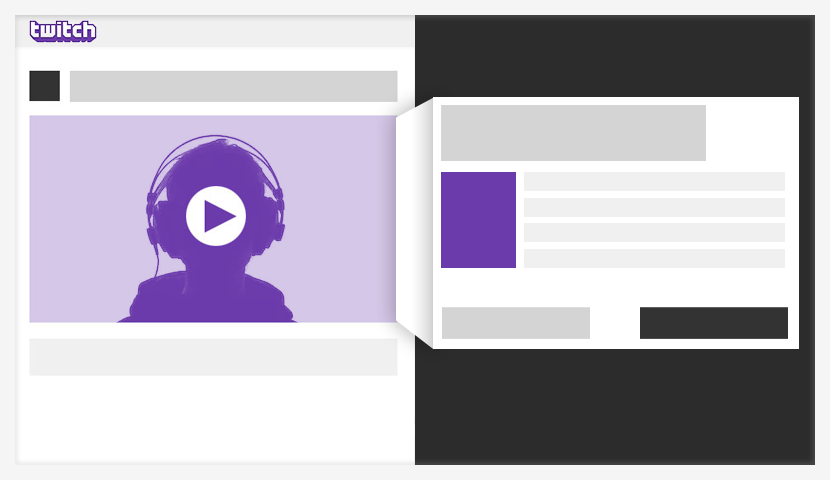 The Bounty Board is a brand-safe marketplace that connects advertisers with Twitch's Influencer Streamers and their micro-communities of viewers. Brands post a "Bounty" by filling in information about the campaign program. Influencers can then navigate the Bounty Board marketplace and go live with campaigns they believe will match the interests of their audiences.
How effective are influencer campaigns? Sixty seconds after Mike "Shroud" Grzesiek, a popular gamer, discussed purchasing a new Cougar Gaming case, the brand's website crashed from a flood of traffic.
Something to consider with esports influencer campaigns is that when a brand sponsors a streamer, viewers in the chat will often ask about the product. For example, Monster Energy Drinks influencer, Jaryd "Summit1G" Lazar, streams with a Monster mini-fridge behind him. This leads the audience to ask him about his favorite flavors and if new flavors will be released.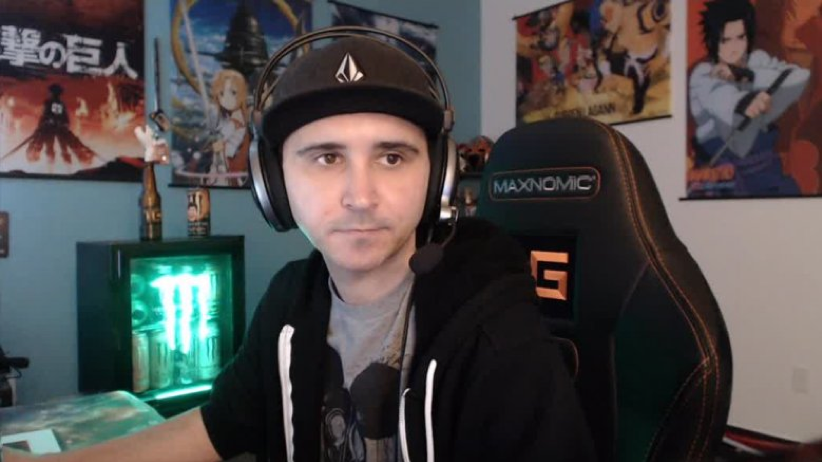 Likewise, G-Fuel Energy Drinks influencer, Guy "Dr. Disrespect" Beahm, begins his streams by drinking the product on camera. The two streamers' personalities are completely opposite, but their differences help them promote similar products in unique, authentic ways.
Not convinced? Let's talk numbers.
The esports audience is broad and growing. According to data from eMarketer, by 2023, US esports viewers will total 46.2 million, jumping by more than 50% from the 2019 audience of 30.3 million. This means that by the end of this forecast period, 15.5% of US Internet users will watch organized competitions on streaming channels at a minimum of once a month.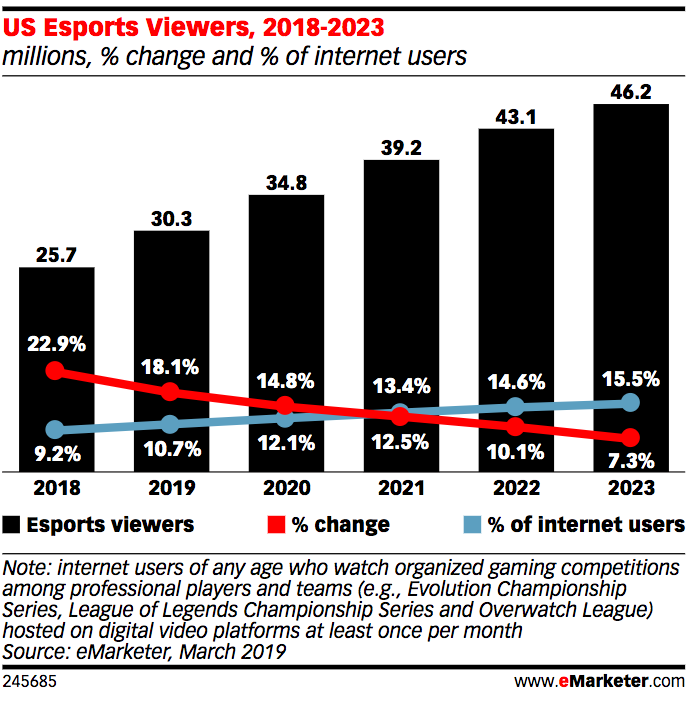 While esports age demographics vary by game, league, and tournament, it's worth noting that millennials are among the most active members of the viewing population. It's estimated that Twitch reaches 50% of males ages 23 to 38 in America. Yes, you read that right. So, if your brand is looking to reach millennial males, Twitch is an excellent place to start.
Twitch by the numbers:
15 million daily active users
2+ million unique content creators each month
106 minutes watched per person, per day
2+ million peak concurrent site-wide viewers
Although Twitch is currently the dominant player, you shouldn't count out platforms such as Mixer, YouTube, and Facebook Gaming.
In the third quarter of 2019, total gaming hours streamed on Mixer increased by 188%, nearly tripling from 11.3M in the second quarter. Also, YouTube's average viewers per channel increased by 13% compared with the previous quarter.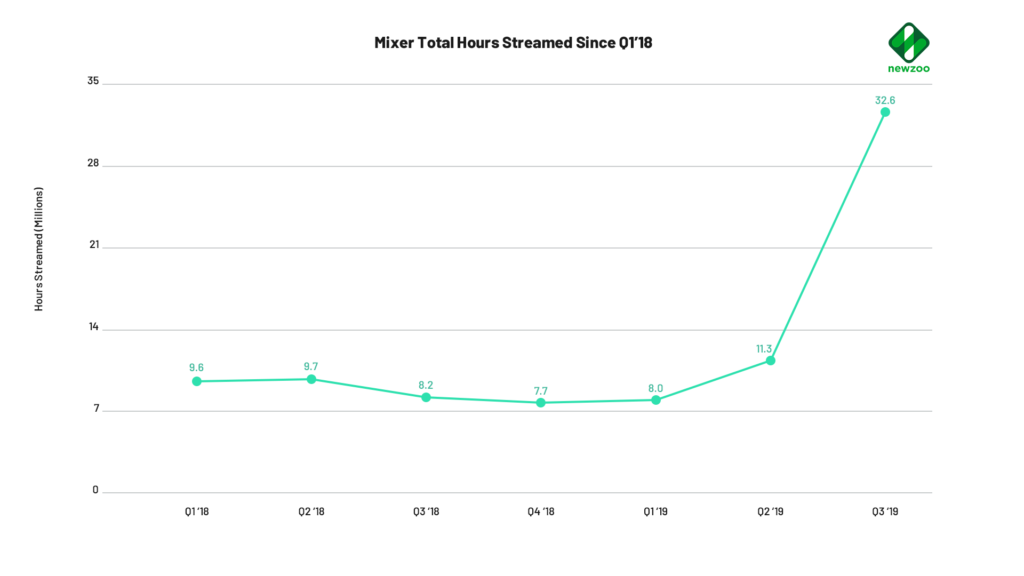 Moreover, it's important to note Facebook Gaming's popularity outside of North America, with APAC, Latin America, and Europe accounting for much of the growth in its base of streamers. In fact, NexxuzHD, one of the most popular Spanish-speaking gaming creators on YouTube, just revealed that he's now streaming on Facebook Gaming.
Hopefully these insights will help your brand level up on gaming-related marketing. If you're interested in getting in the game and learning more about advertising on Twitch or other platforms, don't hesitate to contact MDG's team.
Find out if your brand can reach its target audience on streaming platforms. Contact MDG today at 561-338-7797 or visit www.mdgsolutions.com.
 MDG, a full-service advertising agency with offices in Boca Raton and New York, NY, is one of Florida's top branding firms. MDG's capabilities include print advertising, direct mail marketing, branding, logo design, creative, media buying and planning, radio and TV advertising, outdoor, newspaper, digital marketing, website design and development, online video advertising, infographic development, email marketing, video marketing, mobile marketing, content marketing, social media marketing, paid search marketing, and SEO. To learn about the latest trends in advertising and branding, contact MDG today at 561-338-7797 or visit www.mdgsolutions.com.