With Olympic Advertising Campaign, P&G Thanks Moms on a Global Scale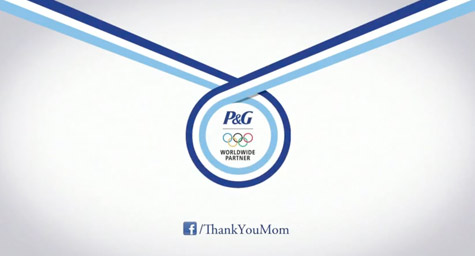 As the world anxiously awaits the 2012 Summer Olympic Games in London, Procter & Gamble is already winning over the hearts of consumers with its "Thank You, Mom" advertising campaign. This touching campaign highlights the many things that moms do to help their children achieve their personal goals. eMarketer.com recently interviewed Glenn Miller, external relations manager for P&G, who has taken on public relations for the company's Olympic sponsorships, to discover their strategies surrounding the global event.
The company's involvement with the Olympics can be traced back to their sponsorship of the Vancouver Winter Games. Admittedly, P&G does not produce sports-related items, so they had to figure out the strategic angle of their involvement with the world's largest sporting event. Their team quickly realized that their products affect the lives of millions of families, especially moms, each day. This led to the idea for the "Thank You, Mom" campaign, which was that behind every Olympic athlete there is a mom. The campaign shows how Procter & Gamble touches the athletes through the P&G products their mothers use. The campaign was such a success when it was launched during the Vancouver Games that the company has brought it back for the upcoming London Games.
"Many people are calling this the first digital Olympics," said Mr. Miller. "We are taking advantage of that with very broad digital campaigns around the world. We wanted to go into the games with very high consumer awareness of what P&G is doing, so digital was the key launch point for that." He added that the company is even launching some campaigns digitally weeks before they air on traditional media channels and they expect that up to half of impressions will come from digital.
Mr. Miller also discussed the metrics that P&G uses for its social media initiatives and explained that they have goals in regard to the number of video views, as well as the likes on their brand and corporate Facebook pages.
"We are also looking at the viralness of the ad—are we creating a grass-roots movement around the whole idea of thanking mom? I think we are," he said. "Our Facebook fan base has gone up tremendously. The chatter about it is good, and it's being picked up in the blogger community. We are very happy with how viral the film has been and how our overall marketing campaign has been received."
Mr. Miller emphasized that P&G is focused on following their consumers, which is what led them to take such a strong interest in digital advertising in the first place. In fact, many of their most popular brands, including Tide and Pampers, will have Olympic-oriented digital initiatives this year.
With the eyes of the world watching the Olympics, P&G is ready and waiting to score big in the digital arena.
To learn more about the power of digital advertising, contact MDG today at 561-338-7797 or visit www.mdgsolutions.com.
MDG, a full-service Florida advertising firm with offices in Boca Raton and New York, NY, specializes in developing targeted Internet marketing solutions, exceptional creative executions and solid branding and media buying strategies that give clients a competitive advantage. Our core capabilities include branding, logo design, creative, digital advertising, print advertising, direct mail marketing, media planning and buying, TV and radio, video, Web design and development, infographic development, email marketing, social media marketing, and search marketing.
Read more at EMarketer.com