Yahoo Taps Anchorman Crew to Recap the Year's Top Searches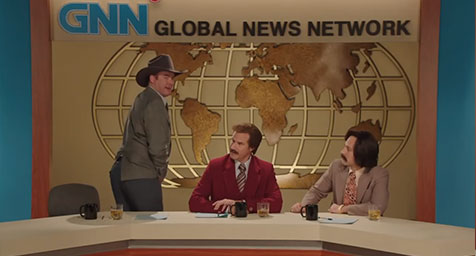 It seems like just as we start to wrap up each year, millions wrap up holiday gifts as the media wraps up our culture in countdowns. And through a playful spin on art-imitating-life-imitating-art, Yahoo is using a piece of pop culture to present the year's best and promote the year's latest. This clever package of parody and promotion features the stars of the upcoming Anchorman sequel recounting and riffing on the year's most popular Yahoo searches. CNet.com hit on the highlights of Yahoo's Year in Review.
In the video on the verge of going viral, Anchorman 2 stars Will Ferrell, Paul Rudd, and David Koechner broadcast the topics that topped Yahoo's searches of 2013. From the cries of joy for the royal baby to the way Miley Cyrus took twerking from teens to the mainstream, the Anchorman 2 stars give a satirical spin to the searches that piqued our interests and inquiries.
These year-end reviews are nothing new for the Yahoo crew, who have been tracking the year's top searches since 2001. But one thing that's new to this year's review is a recap of trends on the social media site Tumblr, which Yahoo acquired this spring. And the other fresh feature is the cross-marketing mashup of the top searches of 2013 with the promotional push for Anchorman 2, which adds aspects of cultural relevance and comical revelry to this year's sum-up of searches.
And speaking of searches, other topics that topped the list included celebrities like Kim Kardashian, along with coverage of Obamacare, the iPhone 5 phenomenon, and pop performers like Justin Bieber and Selena Gomez.
For a look at Yahoo's Year in Review through the lens of our friends in Anchorman 2, check out the video here.
Discover the secrets of successful search marketing. Contact MDG.
MDG is a full-service advertising agency and one of Florida's top creative ad agencies. With offices in Boca Raton, FL and New York, NY, MDG's core capabilities include branding, logo design, digital marketing, print advertising, mobile marketing, email marketing, media planning and buying, radio and TV advertising, outdoor, newspaper, video marketing, Web design and development, infographic development, content marketing, social media marketing, and search engine optimization (SEO). To stay on top of the latest trends in marketing and advertising, contact MDG. For more about the trends that are changing search marketing, take a look at MDG's white paper, "6 Search Marketing Trends for 2013 That Could Forever Alter the Landscape."