Your Search is Over for the Marketing Trends of 2016 [Infographic]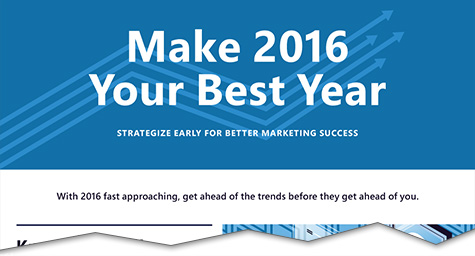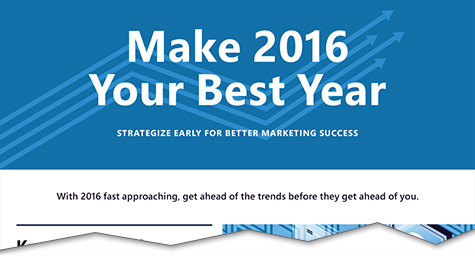 Now that the New Year's ball has dropped, you don't want to drop the ball on your marketing plans for 2016. To help you organize and optimize your 2016 strategies, Column Five Media and Microsoft created a new infographic that reveals the upcoming trends that will matter to your marketing. From new digital devices to wiser ways to spend, Adweek.com shared a peek at what will change the game in your game plan.
New Tech to Expect
Watch for a world of new high-tech products to arrive on the scene in 2016. The most anticipated arrivals include:
More wearable tech devices.
New search engines integrated into social networks that maximize the consumer's time online.
More live streaming via Periscope.
Snapchat to become a marketing must.
And more…
Save by Spending on Content Marketing
Did you know that content marketing costs 62% less per lead than traditional outbound marketing? To make sure you spend wisely and well, allot your budget to the marketing channels that yield the highest results and return.
3 Keys for Consumer Connection in 2016
According to the infographic, there are three ways to enhance the success and standing of a brand in the consumer's eyes. These include:
Be completely transparent: 58% of consumers say they trust companies that create video content that offers an open and honest look at the company.
Reward for usage: Offering consumers rewards like loyalty points for actions that benefit the brand pay off in many ways.
Display a greater mission and meaning: 60% of Millennials opt to work for companies that are motivated by more than sales.
To see more of what's ahead for marketing in 2016, check out this insightful infographic.

Tap into the latest trends in marketing. Contact MDG today at 561-338-7797 or visit www.mdgsolutions.com.
MDG, a full-service advertising agency with offices in Boca Raton and New York, NY, is one of Florida's top branding firms. MDG's capabilities include print advertising, direct mail marketing, branding, logo design, creative, media buying and planning, radio and TV advertising, outdoor, newspaper, digital marketing, website design and development, online video advertising, infographic development, email marketing, video marketing, mobile marketing, content marketing, social media marketing, paid search marketing, and SEO. To learn about the latest trends in advertising and branding, contact MDG today at 561-338-7797 or visit www.mdgsolutions.com.